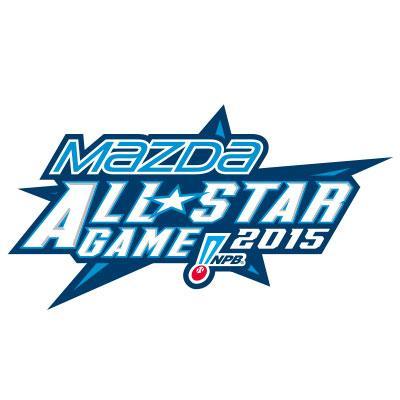 The NPB All Star game voting concludes on June 20th. Here, we will reveal our ballot for both the Central and Pacific Leagues by position and explain why we voted for them.
Stats reflected in games concluded after 6/16.
For Pitchers, we will post ERA/FIP/WHIP.
For Batters, we will post BA/OBP/SLG .
Pacific League: Shohei Otani (Hokkaido Nippon-Ham Fighters): (8-1), 1.66/1.18/0.821
Central League: Kenta Maeda (Hiroshima Toyo Carp): (4-5), 2.01/1.90/1.131
For the Pacific League, it's very clear cut that Otani gets the starting pitcher vote from me. Brandon Dickson of the Orix Buffaloes comes in a close second as he is one of the lone bright spots for them. Otani has been dominant and should remain this way for the next few years.
Maeda was a close call, but I liked his strikeout numbers compared to his competition. Shintaro Fujinami (Hanshin Tigers) and Yudai Ono (Chunichi Dragons) were both very close calls. Maeda should have more wins as should the Carp, but will we see him in MLB? The question remains as Hiroshima has not showed signs of being a contender.
Pacific League: Edison Barrios (Fukuoka Softbank Hawks): (0-1), 2.36/2.37/1.462
Central League: Kenjiro Tanaka (Yokohama DeNA Baystars): (1-1), 2.03/1.99/1.275
Tatsushi Masuda for the Seibu Lions had a rough week and despite his FIP being more impressive, Edison Barrios has been more consistent as the setup man for Fukuoka. Hiroyuki Fukuyama of the Rakuten Golden Eagles was another close candidate in the Pacific League.
Tanaka was also a close call among Central League relievers, but his reduced number of walks was the nod over a few others. Scott Mathieson of the Yomiuri Giants, Shinobu Fukuhara of the Hanshin Tigers and Tetsuya Yamaguchi of Yomiuri were in consideration.
Closer:
Pacific League: Tomomi Takahashi (Saitama Seibu Lions):
(1-0), 0.93/1.74/0.828
Central League: Tony Barnette (Yakult Swallows): (1-0), 0.31/2.63/0.897
Takahashi isn't the most trendy vote, but we will pull the small homer card on this because he has yet to blow a save and has been reliable when needed. Yuki Matsui of the Rakuten Golden Eagles has been more dominant with a lower ERA and probably wins the fan vote as a whole, but both pitchers should be considered.
Barnette allowed his first earned run on Monday but had a dominant run up until that point of not allowing one. After having two down years for the Swallows, Barnette has picked up his form from 2012 and gets the nod as the closer for the Central. Yasuaki Yamasaki of Yokohama was also in consideration.
Catcher:
Pacific League: Kensuke Kondo (Hokkaido): .316/.402/.454
Central League: Shinnosuke Abe (Yomiuri Giants): .280/.363/.374
Kondo has some of the better offensive statistics for a catcher, which is all-star worthy. Unfortunately we're not so sure of his defense, but he gets our vote due to the rest of the catchers not hitting anywhere close to .250. Motohiro Shima of Rakuten currently leads the fan vote. Ginjiro Sumitani is also in consideration for his defense.
Abe gets somewhat of a vote based on name recognition, but he is having a down year by his standards with less pop than usual. However, with the lack of catchers hitting around the rest of the Central League, the recently converted catcher who plays 1B on occasion still gets this vote.
Pacific League: Sho Nakata (Hokkaido): .263/.359/.559
Central League: Jose Lopez (Yokohama): .315/.367/.535
Nakata is the current NPB home run leader with 20 jacks on the season. Dae-Ho Lee (Softbank) also has a very good argument to get in with a .335 average and a ridiculous .624 SLG. Both players should get into the call star game as Lee had an impressive month of May to make his case. I tend to always vote the leading home run hitter by default.
Lopez has fewer home runs (12) than Kazuhiro Hatakeyama (18) of Yakult, but is more well rounded in average. He has proven to be reliable after having a down 2014 season. I'll sacrifice some pop for a little more average when voting in the Central League.
Second Base:
Pacific League: Hideto Asamura (Saitama): .313/.404/.454
Central League: Tetsuto Yamada (Yakult): .298/.397/.506
Asamura has rebounded well after having a down 2014 where he was all over the infield and didn't have an identity. Since being put at 2B, he was able to concentrate on hitting and has not had a problem hitting for average. Luis Cruz (Chiba Lotte Marines) also has some impressive power with 13 home runs to make a case.
Yamada is not the best on defense in comparison to Ryosuke Kikuchi (Hiroshima), but the numbers don't lie that he has shown power (11 home runs) and speed with 12 stolen bases. For a second baseman, I'll take the one who can hit significantly better in my vote. If Kikuchi was hitting around .280, I'd consider him.
Shortstop:
Pacific League: Takuya Nakashima (Hokkaido): .280/.360/.302
Central League: Kosuke Tanaka (Hiroshima): .286/.328/.456
Nakashima has a better average than everyone else. Daichi Suzuki (Chiba) could make a case if his defense is better, but the crop of Pacific League shortstops is thin as this position doesn't hit. Nakashima wins this vote by default.
Tanaka is part of the great tandem with Kikuchi on the Carp infield. Hayato Sakamoto (Yomiuri) was the other person I was tempted to vote for.
Pacific League: Takeya "Okawari-kun" Nakamura (Saitama): .270/.341/.573
Central League: Hector Luna (Chunichi Dragons): .345/.425/.456
Okawari-kun has the second most home runs (19) and is the league's RBI leader with 61 total. With those leading stats, it's hard to vote against a proven home run hitter. Nobuhiro Matsuda (Fukuoka) also has a good case for 3B votes with a better average.
Luna has been the staple of the Dragons' offense since 2013. This year he has lacked pop, but is still hitting for average among the Central league's third basemen. Shingo Kawabata (Yakult) would've been my second choice.
Yuki Yanagita (Fukuoka): .376/.470/.608
Shogo Akiyama (Saitama): .370/.414/.522
Katsuya Kakunaka (Chiba): .338/.400/.440
Yoshitomo Tsutsugo (Yokohama): .329/.398/.541
Takayuki Kajitani (Yokohama): .303/.370/.448
Ryosuke Hirata (Chunichi): .310/.400/.410
Yanagita and Akiyama lead the league in batting average and both are in a battle for the batting title. Akiyama is obviously the leadoff hitter for the Lions giving him more at bats, but both players are impressive in their own right. Kakunaka gets the nod over his teammate Ikuhiro Kiyota, who has been red hot for the month of May which included a 23 game hitting streak. He takes the third vote over Kiyota for his consistency over the year, rather than voting someone who had a strong month.
Tsutsugo is the reigning player of the month in the Central league and is one of the most well-rounded hitters in Japan. Kajitani and Hirata should both be good complements for their abilities to get on base. They were the best of the bunch compared to Yoshiyuki Kamei and a struggling Yoshihiro Maru, who was better last season.
Designated Hitter (Pacific League Only):
Tomoya Mori (Saitama): .291/.355/.533
Mori has been tearing up opposing pitchers after there were some questions on whether he would start or not. With Ginjiro Sumitani at catcher, the designated hitter position for the Pacific League opened the door for him to keep hitting. A catcher by trade, Mori has already shown impressive power with 12 home runs this season where he is second on the team behind Okawari-kun. This position is very clear cut among his competitors, but it would be tempting to vote Dae-Ho Lee here knowing he has been more consistent than Mori.
Here is a look at who I have on my All-Star Ballot:
And for those of you who can't read the Kanji for names and positions, here's a personal edit I made to show my ballot.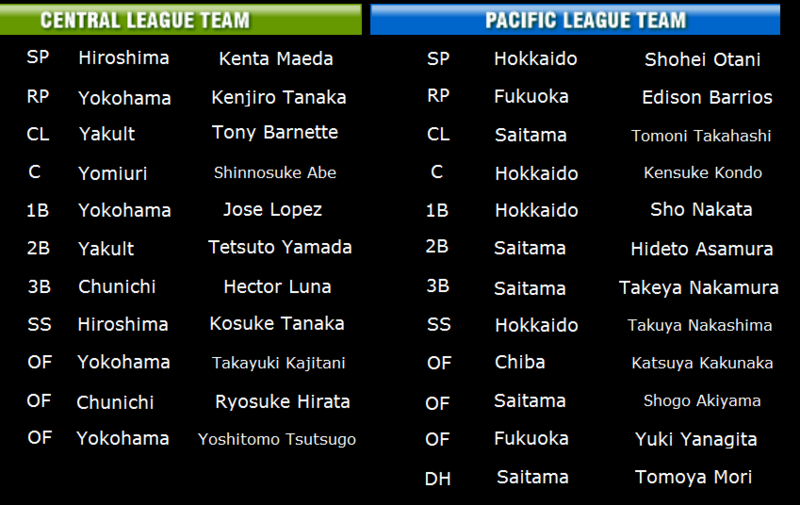 In summary, I have voted no Eagles nor Buffaloes, but I expect Matsui and Dickson to both get in as representatives. If Ginji Akaminai was healthy, he would also be in consideration. There are also no Hanshin Tigers voted for, but Fujinami will easily get in among their players.
It was also tempting to vote Luis Cruz as a SS with the shortstops I've seen in the Pacific League. There should be plenty of fun for fans and players to enjoy in the Tokyo Dome and Hiroshima this summer.