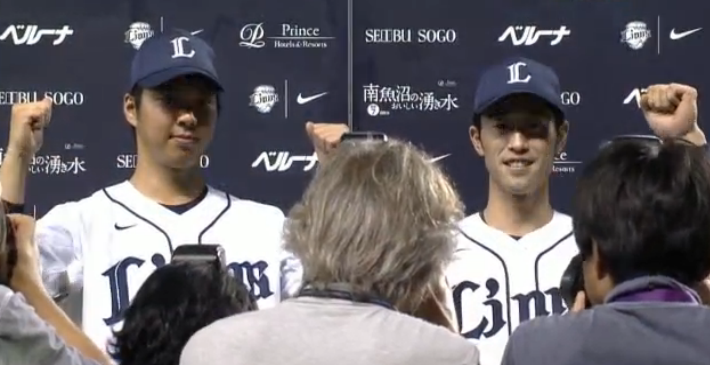 The Saitama Seibu Lions had their first winning week since prior to the All-Star break, where they swept the Rakuten Golden Eagles and took the series against the Chiba Lotte Marines winning two out of three. As a result, the Lions are now a 1/2 game in front of Chiba in third place for the Pacific League playoff race.
Game 1 against Rakuten was another pitcher's duel between Takayuki Kishi and Takahiro Norimoto in Omiya. Kishi had a shaky first, but got struck out Zelous Wheeler with two runners on.
The Lions bats would remain cold again, but it didn't come without chances. Takeya "Okawari-kun" Nakamura struck out with two runners on base. Hideto Asamura also had three strikeouts and was 0-4 on the night.
The sixth inning is where the chance could come, after Ryota Wakiya would hit a leadoff triple when Ryo Hijirisawa would misplay a ball in centerfield. Norimoto looked like he would escape when he struck out Okawari-kun and Ernesto Mejia, but Tomoya Mori walked and Takumi Kuriyama was up with runners on the corners. A wild pitch in the dirt would sent Wakiya home and the Lions were on the board.
Norio Tanabe would go with a defensive lineup after the Lions scored by moving Wakiya to 1B and adding Masato Kumashiro in right field.
Kishi would have his own inning of stress in the seventh, where walked Wheeler to start. The Eagles would bunt a pinch runner in Makoto Moriyama to second base and the tying run was in scoring position.
After forcing a groundout, Motohiro Shima was up and he singled to right field. With Kumashiro getting to the ball quickly, Rakuten would not send Moriyama home and Kishi would get another chance for a Houdini.
Kishi would strikeout Tetsuro Nishida to end the frame and get the shutdown inning. Tomomi Takahashi worked an easy eighth inning, but the ninth inningbecame dramatic. Kazuhisa Makita would hit Willy Mo Pena with a pitch and the Eagles would have the tying run on again with a pinch runner in Toshihito Abe.
To make matters worse, Moriyama would get the bunt down, but Makita's throw to first base was off target, having two on and nobody out. Mitsutaka Goto would bunt again, but this time Gijiro Sumitani would save the day, attacking third base and a 2-5-3 double play would happen.
Hiroaki Shimauchi would extend the game with an infield single where Kyohei Nagae had no chance. Shima was up again with runners on the corners and hit one on the button on an 0-2 pitch. It looked like it would fall, but Kumashiro would save the day with the catch while sliding. It was the third 1-0 win for the Lions in 2015. They would finish the season with a 2-1 record when playing in Omiya.
In Game 2, the Lions looked like they would continue to strand runners against Wataru Karashima. In the fourth inning, the Eagles would draw first blood with an RBI single by Matsui. Shuta Tonosaki had an error that kept the inning alive, making it unearned for Yusei Kikuchi.
However, the Lions broke through when Kuriyama hit his eighth home run of the year to put the Lions up 2-1. Tomoya Mori led the inning off with his first triple of the season. Asamura would break an ugly drought with an RBI double and Mori would add a timely single in the fifth to triple the lead at 4-1.
Kikuchi would have to earn his shutdown inning, striking out Matsui and Tatsuro Iwasaki with a runner in scoring position. He had 10 strikeouts and only one walk through six innings pitched.
Asamura would beat out a double play and get another run on the board in the sixth. A wild pitch by Fumiya Ono put the game out of reach at 6-1 and the Lions bullpen shut it down. Shota Takekuma, Tatsushi Masuda and Takahashi combined for the last 3 innings and would only allow one hit. It was encouraging that Takahashi would strike two batters out to end it.
In Game 3, the Lions jumped out to a fast 4-0 lead in the second inning, where Asamura had an RBI single with runners on second and third. A fielding error on the throw by Shima went to centerfield, and Asamura was able to advance to home plate resulting in an unofficial home run.
Chun-Lin Kuo would do well in the first two innings, but the third is where the trouble came. He would allow a barrage of hits and the Eagles would tie it up at 4-4. Toshihiro Iwao would take over and get a clean 4th inning, but the 5th saw more damage by Rakuten. Willy Mo Pena would clear the bases on a gapper to put the Eagles up 7-4.
However, the Lions were able to load the bases themselves with Naoto Watanabe up to bat. He would pull a gapper of his own down the left field line and the game was tied in the bottom of the fifth. Shogo Akiyama would give the Lions the lead for good with a single plating Watanabe.
Yosuke Okamoto would work a clean shutdown sixth inning and the Lions were in business. The Lions would add insurance off a sacrifice fly from Kuriyama and another RBI from Watanabe in the 7th. Ginjiro "Gin-Chan" Sumitani would also get a gapper to plate two more and make it 11-7. Gin-Chan put the game away for good with a two-RBI single in the 8th. The Lions would win 15-7 and it would be their fourth in a row.
===
Game 1 against Chiba Hideaki Wakui looked to be smooth sailing with a four-run second inning. Asamura, Okawari-kun and Akiyama would each have RBIs and a passed ball made it 4-0 after three innings.
Ken Togame allowed a solo HR to Luis Cruz, but would avoid any further damage when stranded runners on the corners twice. He would go six innings with only four strikeouts. It wasn't his best outing as he was being hit hard, but some great defense bailed him out and prevented more runs on the board.
In the sixth, a turning point happened for the Lions as Ikuhiro Kiyota looked like he would get a triple, but a relay from Kuriyama to Tonosaki to Watanabe caught him out at third base. It was a 7-6-5 play and he would have scored from second because the Marines would have base hits latter that inning. This play took a perfect throw from Tonosaki and it nabbed Kiyota right at the end.
Okamoto would allow a leadoff hit, but would get a double play in the seventh. Masuda also didn't allow any runs in the eighth. Seibu would add insurance in the seventh where a wild pitch would score a run and Okawari-kun would hit a gapper to bring two more, making it 7-1.
The ninth inning is where the game would become chaotic. Takahashi saw five batters and could not get an out. From a bases loaded situation, to a barrage of doubles, the score would be 7-4 when he left with nobody out and two on base for Shota Takekuma.
Takekuma would allow some more hits, making it 7-5, but would get a flyout from Kiyota. Alfred Despaigne would then ground into a fielder's choice, where a diving Watanabe saved a run and the Lions got a force out at second base. Kazuya Fukuura would make it a one-run game with a single and it was up to Katsuya Kakunaka batting a second time in the inning. Despite a five run 9th inning, Takekuma would get a flyout to Shogo Saito in left field and end it. It was the fifth straight win for the Lions in an ugly manner.
If it weren't for some great defensive plays including Sumitani throwing out Takashi Ogino, this would have resulted in a loss. The defense had to be perfect on the night and it was. There were several miscues from Chiba including wild pitches and even a catchable ball from Kiyota early on that cost them some runs.
In Game 2, Ryoma Nogami just couldn't catch a break and Chiba's lineup sent a message in the first inning. He had no answer for Kyota and Fukuura, who did the damage against the Lions in the past and the score was 4-0 after 1 inning.
Chiba would add another and the Lions would respond with three runs with the help of a base hit by Tonosaki. However, that was the closest they would get as Chiba would score four more runs in the fourth to make it 9-3 after Kiyota hit a two-run home run.
It was a spot start for Shuta Kimura, where he would last 3.1 innings and only the allow three runs in second. Ernesto Mejia added a late home run for his 19th of the year, but that would be it and the Lions would be blown out by a final score of 9-5.In low leverage, Kuo would make his first appearance out of the bullpen going 2.2 innings.
Game 3 against Chiba already had a quick start for the Lions with an RBI single from Wakiya. Shogo Akiyama would later hit a three-run home run off Yuta Omine, where he made a fielding mistake to attack the lead runner rather than the sure out at first base.
The Lions would pile on with doubles from Mori, Mejia and even an RBI single from Gin-Chan in the third inning and it was already a 7-0 lead. Kona Takahashi had his best career outing with a complete game shutout. It took some tremendous defense to keep the shutout intact, but still an impressive feat for only his fourth career start.
This was the first complete game shutout by a Lions rookie straight out of high school since Daisuke Matsuzaka in 1999. That's a pretty good company to be in, knowing what "Dice-K" did for the Lions.
Norio Tanabe's decision to keep K. Takahashi in for the 9th was a little greedy, as he had two runners on base, but still got out of his own jam and earned the shutout. The Lions are now in pole position, but there is still plenty of work to be done.
There are still question marks with this bullpen with Makita back in the rotation and Kuo now in the bullpen. What happens at closer? Does T. Takahashi keep his job there or do they chose someone else?
This 5-1 week was much needed after a long run of losing and it was the first winning week in 7 attempts. Until they beat Chiba, it felt like the Lions could only defeat Rakuten, as they're 14-5 against them head to head this year. However, the monkey is off their back and there is life.
I'm not going to say this team is "back" yet, because the bullpen is took shaky, but it's a good start. They'll face the Hokkaido Nippon-Ham Fighters the Eagles on the road this week, which includes a matchup against Shohei Otani. Can only hope to go 4-2 on the North side of Japan.
===
Follow us on Twitter @GraveyardBall