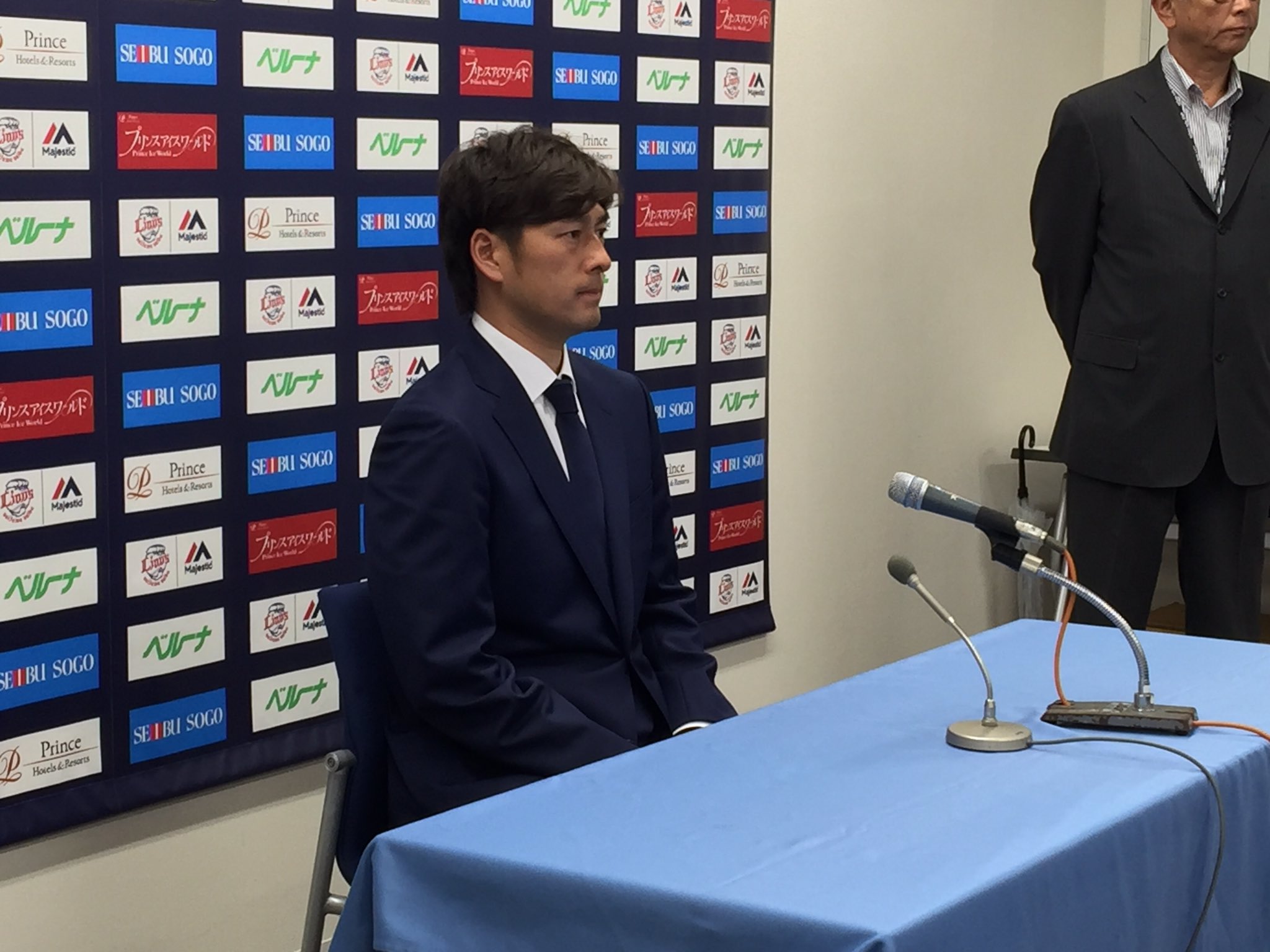 Chikara Onodera at his introductory press conference.
The Saitama Seibu Lions
announced
on Friday afternoon that they promoted ni-gun pitching coach Shinji Mori to the ichi-gun level with the identical coaching job. They also announced that they hired a new coach in Chikara Onodera to take his old position.
Mori, 41, was the ni-gun pitching and training coach for the Lions since the end of 2014. He also played for the Lions as a pitcher from 1997-2005, where he was a second-round draft pick in 1996. Mori was a member of the 2004 Japan Series champion Lions team as well as the 2002 team who won the Pacific League pennant in mostly a bullpen role.
An interesting tidbit about his professional career includes being posted for $750,000 to the Tampa Bay Devil Rays in 2005, but didn't play a game at the MLB level due to a torn labrum. It was a year before Daisuke Matsuzaka was posted to the Boston Red Sox.
Mori would later manage the Ishikawa Million Stars out of the baseball challenge league where he played for them in 2009 and was the skipper from 2010-2014. He was a player-manager from 2013-2014. Today, the Million Stars manager position is held by former MLB player Julio Franco.
Yoshihiro Doi, who was the previous pitching coach, has now become the bullpen coach. Doi, 39, was a former Lions pitcher who was drafted in the fourth round of the 1997 draft. He would play for the Lions from 1998-2003 and 2009-2010 with a stint for the Yakult Swallows from 2004-2008.
Onodera, 35, played for the Lions from 2003-2011 as a pitcher. He was a fourth round draft pick of the team in the 2002 NPB Draft. Onodera was a reliever for the 2004 and 2008 Japan Series Championship teams and now has his first coaching role. He will also coach any ikusei players.
The Lions pitching has been struggling as they're a bottom tier staff among Pacific League teams. As of May 5, they have second fewest number of strikeouts and are 4th in team ERA. They're also ranked 5th in WHIP.
In all, this is a desperate move for a situation that isn't looking good. The rotation has not been good, while the bullpen has remained unreliable for most of the this young season through one month. Management is trying to find lightning in a bottle for a coach by promoting from within.
===
Follow us on Twitter @GraveyardBall