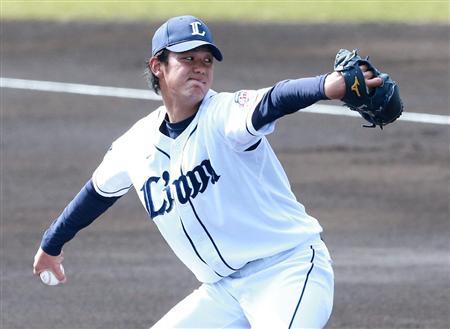 Saitama Seibu Lions pitcher Kona Takahashi will have to wait in order to play with the ichi-gun team.
On Sunday afternoon at a ni-gun game against the Tokyo Yakult Swallows,
Takahashi was hit in the face by a ball on a return throw from either the umpire or catcher
. He remained in the
game and went five innings, being credited
with the win, but was diagnosed with a fractured cheek bone. Takahashi is expected to be re-evaluated on Monday, March 21.
Takahashi, 19, was the Lions' first round draft pick in 2014 out of Maebashi Ikuei high school. He made his debut in August and went 5-2 last season. Takahashi earned the Pacific League Pitching MVP for the month of August where he also earned a shutout.
He is primarily remembered for being the ace and he became a Koshien champion in 2013, carrying the team through the tournament. The Lions view him as the next ace for the long run.
With Takahashi out indefinitely, the Lions have plenty of options to fill the starting rotation. Yusei Kikuchi will be the opening day starter while Takayuki Kishi is currently the ace. Ken Togame, Kazuhisa Makita, Ryoma Nogami and Andy Van Hekken are also expected to contribute to the rotation.
Shinzaburo Tawata, the Lions' 2015 first round draft pick, is also injured as he recovers from a shoulder injury he suffered last year. Chun-Lin Kuo was a 6th starter last year while farm pitcher Isamu Sato has made his case to be in the rotation through a good spring training.
On June 24, the Lions are expected to play in Maebashi, Gunma against the Chiba Lotte Marines, which is Takahashi's hometown.
Update:
Takahashi's condition is not viewed as serious, but he will be
out for the Opening Week of the season
. It appears that he lost his footing when receiving a ball thrown by the umpire, which struck his face.
===
Follow us on Twtiter @GraveyardBall