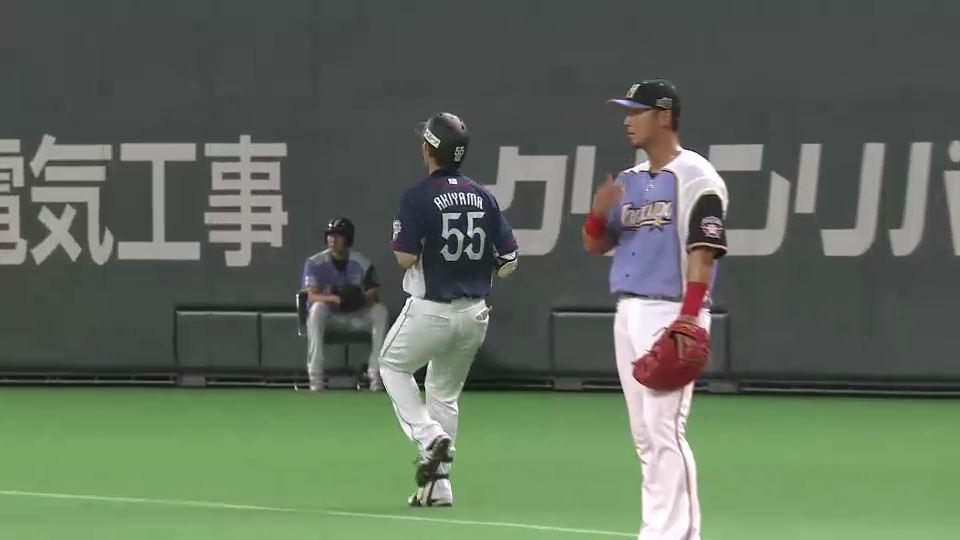 The Seibu Lions had a rough week going 1-4 with two games remaining before the All-Star break. This included games against the Orix Buffaloes and a rough trip in Hokkaido against the Nippon-Ham Fighters.
Game 1 against Orix was a classic pitcher's duel and a rematch of opening day with Brandon Dickson and Kazuhisa Makita. The game was under three hours and players would swing early in their at bats to make the game quick.
The Lions had multiple chances squandered including a bases loaded situation with no outs. Tomoya Mori would strike out, Ryota Wakiya would ground out and Shogo Saito would ground out to ruin the chance. However, another came in the sixth inning where Okawari-kun doubled with one out. Mori would move him to third on a ground out giving Wakiya a chance for redemption. On a full count pitch, he sliced one opposite field to the left field and Okawari-kun scored easily from third.
That ended up being the only run of the game as Makita went eight strong innings without a run. He overcame a leadoff double in one inning and Ginjiro Sumitani threw out two runners trying to steal second base.
Makita benefited from some great defense behind him where Okawari-kun flashed the leather and even Hideto Asamura helped turn a double play. Regardless, he didn't allow any dangerous contact where the outfielders had to show off their range. We were relieved when Norio Tanabe put in closer Tomomi Takahashi for the ninth, as he struck out the final two batters with the tying run on base. He got his second consecutive save in as many days. Fittingly, Dickson and Makita were involved with opening day's 1-0 result and the only run was scored in the sixth inning, just like Tuesday.
Game 2 vs. Orix was one that should be forgotten by Lions fans. Ryoma Nogami had a poor start with no location nor control which created a batting practice environment for the Buffaloes. He couldn't get an out in the fourth inning and already allowed five runs on his own.
Ryoichi Adachi had two home runs and was a double short of the cycle against the Lions. Former Lion Esteban German also was dangerous, getting three hits on the night. It was 10-0 Buffaloes after five innings, which gave some reserves a chance to play in garbage time. Third round draft pick rookie Shuta Tonosaki made his debut as a pinch runner for Okwari-kun and scored on a sacrifice fly. He would later get his first career base hit later in the game.
Even backup catcher Masatoshi Okada hit his first home run in his NPB career. The only thing left to decide, was Shogo Akiyama's hitting streak being alive or not. He walked twice, but the Lions got enough hits in the 8th inning to get him a chance in the ninth. Akiyama extended his hitting streak to 28 games with a solo home run to left field. In the end, it was a 12-6 beatdown thanks to a bad outing from Nogami.
Game 1 in Hokkaido lived up to its billing of a pitcher's duel. Shohei Otani and Takayuki Kishi both went eight innings but only one emerged.
Otani showed signs of vulnerability early on and had a few instances with runners on base, but the Lions couldn't get the clutch hit to score a run. A few plays involved great defense from Hiromi Oka where he dived for a ball and caught a liner from Yuji Onizaki.
Kishi had a perfect game through six innings and allows a walk in the seventh, but one mistake in the eighth ended up being the difference. Kensuke Kondo had a leadoff double to end the bid for a no hitter and the Fighters bunted him over to third. After the successful sacrifice bunt, Oka would pull off a safety squeeze, where the ball bounced down the first base line but stayed in fair territory to score the only run of the game.
Hirotoshi Masui would close out the Lions with a 1-2-3 ninth inning and the pitcher's duel was finished.Kishi out pitched Otani, but it won't reflect on the scoreboard. If anything, we like what we're seeing from him going forward.
Game 2 against the Fighters saw both starters not lasting long. Kohei Arihara went two innings, but lacked control with four walks. After hitting Takumi Kuriyama with the bases loaded, he would allow a grand slam to Asamura to give the Lions a 5-1 lead.
Unfortunately, Ken Togame would allow a three-run home run in the third to Kensuke Kondo to ruin all momentum. A meltdown fourth inning would follow with three more runs all charged to Togame, including some key hits from Kensuke Tanaka and Takuya Nakashima.
Tanabe elected to put in Yosuke Okamoto, which is a move we disagreed with in long relief and a wild pitch with inherited runners made it 7-5 after four innings. He would allow another run in the sixth where Shota Takekuma would not get the outs needed with inherited runners and that would prove to be the difference.
Mori would get a two-RBI single with the bases loaded in the seventh off Michael Crotta, but Anthony Seratelli couldn't follow up and tie the game. While it's easy to blame the bats for this, Togame just had a poor start and couldn't recover after the meltdown fourth inning. The Fighters would improve their record in one-run games to 13-4.
There wasn't a sense of urgency by putting in Okamoto, who we view as a mop up pitcher. They gave high leverage opportunities for Kazuki Miyata as well.
Game 3 saw a bad outing from the Lions' defense. Yusei Kikuchi had a bases loaded jam with no outs and successfully got the ground ball needed, but Asamura couldn't handle the throw from Okawari-kun and two runs scored as a result as the ball was in the outfield.
Kikuchi didn't pitch terribly until the fifth inning, where he failed to cover first base and could have gotten a double play, but it resulted in a 3-6 fielder's choice and a run came home to keep the inning alive. He would allow a run to score and later a barrage of hits would come. Brandon Laird would break the game open with a three-run home run to put the Fighters up 8-0 and it marked the second bad outing from Kikuchi.
From a hitting standpoint, Luis Mendoza was dealing and there wasn't a clutch hit in sight. He won his second straight head-to-head game against the Lions with plenty of run support.
This four-game losing streak is the longest for the Lions this year. The pitching wasn't there, but neither was the clutch hitting outside of Tuesday's win over Orix.
We can only hope this is a short term thing, but the concerns have to be there for the hitting, who've been inconsistent and scored in bunches for the season. The Lions were expected to have questionable pitching and this weekend's games outside of Kishi
and Makita's starts had its first set of bad outings.
The good news is, Shogo Akiyama's hitting streak stayed alive through all five games with at least one hit. At 31 games, he is currently two short of the NPB record and could tie it after two games against the Rakuten Golden Eagles.
Seibu will presumably see Takahiro Norimoto this week, but he is not invincible. It will be hard to sweep Rakuten for two games with their ace on the mound for one, but being swept at home would be unacceptable.
===
Follow us on Twitter @GraveyardBall