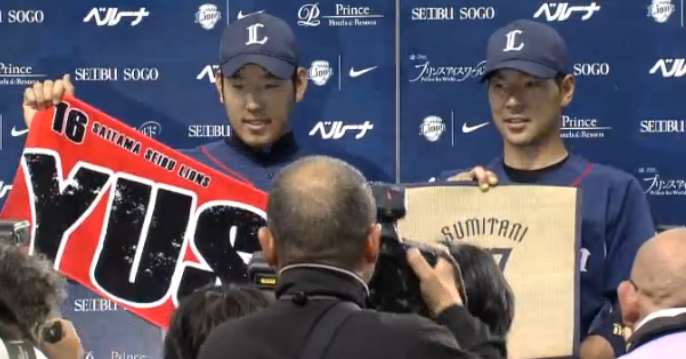 The Seibu Lions went 3-2-1 against the Fukuoka Softbank Hawks and Chiba Lotte Marines for a successful week of baseball. Notably, Shogo Akiyama continued his hit streak to 26 games.
Game 1 against the Hawks came on Monday in Tokyo Dome with a sea of yellow thanks to a corporate giveaway by Softbank. The game itself was a pitcher's duel, but it had a slow start from Kazuhisa Makita.
After having runners on the corners, All-Star SS Kenta Imamiya, mostly known for his defense broke the tie with an RBI single in the second inning. Shuhei Fukuda would also get a clutch two-out hit with a double off the wall, and Tomoya Mori made a mistake in right field by trying to catch the ball. A second run would score on the hit and the Hawks would lead 3-0.
The Lions weren't short of chances though, which there were at least two runners on base in four of the nine innings. It took a brilliant catch by Seiichi Uchikawa to save one run and the Lions would only score one from a bases loaded single by Yuji Onizaki.
In the ninth inning, Hawks closer Dennis Sarfate was in a jam. Seibu had Akiyama and Takumi Kuriyama both on base, but Hideto Asamura flied out and Takeya "Okawari-kun" Nakamura struck out for the third time of the night to end it. Makita couldn't get the third out of the second inning which made the difference, but Shota Takeda out-dueled him for his second win against the Lions in as many weeks.
Game 2 had a slow start from Ryoma Nogami as he allowed a barrage of hits and two runs in the first inning. However, Ernesto Mejia hit a three-run home run in the third and it gave them the lead for good. Kuriyama hit a three-run home run to pad the lead to 6-2.
Nogami would settle in from innings two through six, allowing minimal threats from teh dangerous Hawks lineup. He would only allow a solo HR to Nobuhiro Matsuda in the seventh, but ended any extra damage by stranding two runners on base after it.
The ninth inning saw Okawari-kun hit a grand slam for the 14th of his career and the 22nd home run of the season. The Lions cruise to a 10-3 victory, making things comfortable for players and fans alike.
Game 3 saw a decent outing from Chun-Lin Kuo, where he only gave up a solo HR to Yanagita in the first inning through five. The Lions bats would contribute with a HR from Ryota Wakiya and Hideto Asamura. Even Mori threw a runner out at home plate while playing in right field.
However, the bullpen would be dodging bullets through the sixth, seventh and eighth innings with Shota Takekuma, Esmerling Vasquez and Tatsushi Matsuda. All three pitchers had runners on base and would strand them each time. The ninth inning was there the nightmare would occur as Tomomi Takahashi saw his first save situation since June 14 with a 3-1 lead. He allowed a barrage of hits including an RBI double down the line and an infield single where he chose to throw home to keep the lead, but it backfired and the Hawks tied it. Uchikawa would take the game and series for the Hawks with a Sayonara sacrifice fly.
Takahashi was due to have a blown save somewhere, but rest ended up being rust for the Lions' closer. If I was managing, he could have played in Monday's game during the eighth inning just to get work knowing Tuesday was an off day. In perspective, the Hawks are still the team to beat, no one can deny this.
The last game came with a price, as Mori became limited heading into the next series as he injured himself making a catch against the wall in Fukuoka.
Things became more interesting in a home stand against Chiba, where everything was unpredictable. Takayuki Kishi allowed five runs through 6.2 innings while the Lions pounced on Karakawa in the first four innings for four runs.
Okawari-kun had a solo HR and gave Seibu the lead with an RBI single in the sixth, but Kishi couldn't get the shutdown inning after Norio Tanabe elected to use him for another inning after already having 113 pitches. Katsuya Kakunaka was the nemesis of the night, as he had a triple, double and a backbreaking triple with 2 outs with the last being in the seventh against Kishi.
The Lions bullpen miraculously got out of Kishi's jam in the seventh and didn't allow a run through 5.1 innings of work. This included Yosuke Okamoto, Shota Takekuma and Kazuki Miyata taking an inning each. They were able to induce the ground ball as Okamoto and Takekuma forced double plays. Kakunaka had a great chance to put the Marines in front, but was denied by the Lions pitchers.
Seibu had their own chances in extra innings, including a bases loaded situation in the 11th inning. But Mejia grounded into a 1-2-3 double play to end the frame. The 12th inning also saw a chance when Fumikazu Kimura was bunted over to second base and Mori was allowed to pinch hit with two outs. He was hit by a pitch giving Akiyama a chance to be the hero. However, he hit a 4-3 groundout, causing the Lions fifth tie of the season.
It was a down game for Kishi combined with a miraculous effort by the bullpen, but the bats weren't clutch in the late innings. A few blunders from Kimura in RF caused an extra run to score and the Lions continued to give their fans a scare with runners on base. While they could have won this one, they nearly lost as well.
Game 2 was continuing the brilliant season from Ken Togame, where he went eight strong innings. He allowed a first inning home run from Kakunaka, but he would settle in mostly with only a sacrifice fly in the third inning.
Okawari-kun would start the scoring in the bottom of the 1st for the Lions, with a three-run home run on a 3-1 pitch. Kuriyama would hit a solo home run as well as reserve outfielder Shogo Saito. The Lions took a patient approach at the plate and it paid off, forcing Hideaki Wakui to throw more pitches per batter.
He would only last four innings and Okawari-kun would tack on two more RBIs through doubles. After what was a demoralizing tie, the bats woke up in crunch time against one of the Marines' better pitchers for an 8-2 win.
Game 3 against the Marines saw dominance from Yusei Kikuchi, where he had 7.1 strong innings allowing only an RBI groundout. He had seven strikeouts on the day and silenced the top of the Marines order with only two hits and three walks.
Asamura would draw first blood for the sacrifice fly and Ginjiro Sumitani would have the game winning hit on an RBI double after Shogo Saito was bunted over to second base. Okawari-kun would add insurance with another home run, hitting one in each of the three games against Chiba.
The Lions would take the series with a 3-1 win, with the monkey off their back against the Marines. Previoiusly, the Lions lost three consecutive series against Chiba and would only win one out of three, but this time they go 2-0-1. What also makes this remarkable is how they did it with Ryota Wakiya at 1B and Tomoya Mori on the bench, only having one at bat the whole series.
Kikuchi has gone 37.1 innings and only allowed four earned runs in his last five outings with four of them being wins. After having a lot of hype out of high school, he's having a strong run and beginning to look like what many envisioned him to be. Hopefully he keeps it up and doesn't get injured or hide any pain like he did in the past.
With Seibu having a winning week, we will always take it even if it wasn't the most attractive. The Hawks are the team to beat and there is no shame in losing to them, even though game three had a heartbreaker. Biggest takeaways is that they're still competitive and fighting through the stretch.
Hitting could always be better, but the starting pitching has been teh bright spot with five out of six starters allowing three earned runs or less. No one would have thought Kishi would allow the most in a given week before the season. It's a shortened week against Orix and Hokkaido as we hope for another winning one ahead. Winning three out of five would be acceptable, but it's easy to want four wins.
===
Follow us on Twitter @GraveyardBall