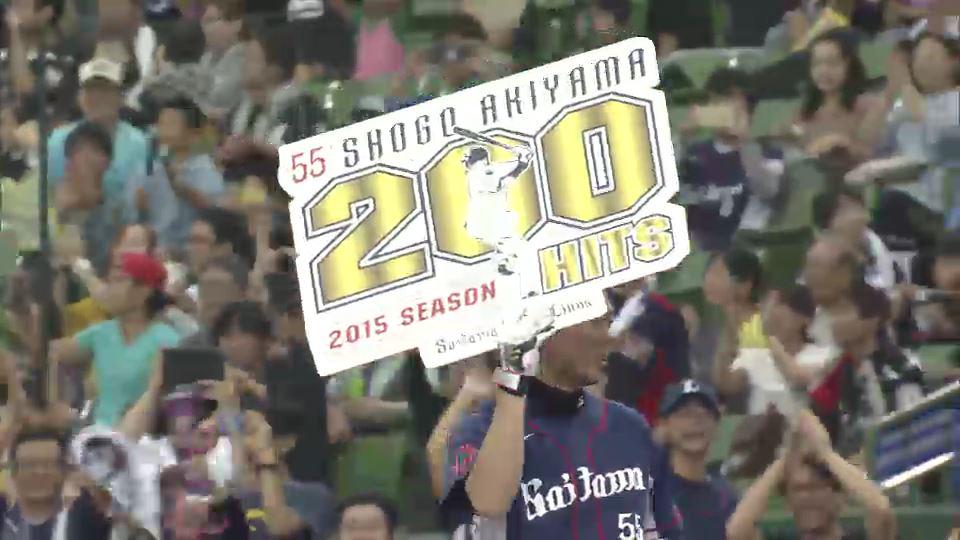 The Lions went 2-3 against the Orix Buffaloes, Hokkaido Nippon-Ham Fighters, Chiba Lotte Marines and Rakuten Golden Eagles combined. They're now 1.5 games in front of Chiba with 11 games remaining.
In Game 1 against Orix, it was a tough battle that lived up to the hype between Brandon Dickson and Takayuki Kishi. Dickson started as a result of a cancelled game last Sunday.
In a low scoring affair, Dickson would have six shutout innings where plenty of guys were stranded on base. The Lions had five walks and three hits off him, but couldn't punch a run home.
Kishi went eight innings allowing only three hits and a walk, but one mistake pitch resulted in a run. He allowed a solo home run from Tony Blanco in the third inning and Orix had the lead until the eighth.
With Hideto Asamura on first, Ernesto Mejia would hit a two-run home run off Yoshihisa Hirano and it gave Seibu the lead for good. Ginjiro Sumitani would give them an insurance run to make it 3-1 heading into the ninth.
Tomomi Takahashi got two outs, but allowed a hit and a walk causing pressure with runners on first and second. Tatsushi Masuda would come in and get Ryoichi Adachi to ground out and secure the win.
Game 2 saw a bad start for Kazuhisa Makita as he allowed four runs in the third inning. Takahiro Okada would get an RBI single with the bases loaded while Takuya Hara and Tony Blanco added two runs of their own to make it 4-0.
Ryoma Nogami would work three innings in relief, but it wasn't enough for the team to catch up. The Lions would strand runners consistently for the night.
The Lions would have only two hits the entire game and four base runners which included an error from Okada and a walk. Daiki Tomei would shutout the Lions with a complete game with seven strikeouts. It was his 10th win of the season.
In Saturday's game against the Fighters, the Lions got off to a good start with a solo home run from Shogo Akiyama. However, the top of the second would be nightmare for Ken Togame, where he couldn't get an out.
The Fighters would bat around the lineup with several singles and ground balls leaving the infield. Everything wasn't placed right, and Hokkaido would score six runs without an extra base hit.
Seibu chipped away at the lead with a two-run home run from Sumitani and an RBI single from Asamura brought the Lions within two. Brandon Laird hit a solo home run off Nogami in long relief, feeling the game was over.
Masaru Nakamura's day was already done after 1.1 innings, making it a bullpen game immediately for both sides.
Asamura would add another RBI hit in the fourth, but the drama came in the sixth inning. After Sumitani got on base, Akiyama would triple for his 199th hit of the season. Ryota Wakiya would then single and tie the game at 7-7, bringing an improbable comeback.
The Lions bullpen would have seven innings without a run, where Nogami, Yosuke Okamoto, Takahashi and Masuda would go unscathed. Hokkaido would put in their closer in Hirotoshi Masui for two innings and it was the 11th inning. The Fighters ended up bunting multiple times where it would come back to bite.
After a leadoff single from Shohei Otani in the 11th, Daikan Yoh would be unable to bunt pinch runner Kenji Sato over to second. They used Takuya Nakashima to send him over, but it would make two outs in the frame.
Kensuke Tanaka got a single to have runners on the corners for Sho Nakata. A timely RBI single put the Fighters up 8-7 with the heart of the Lions order up in the bottom frame.
Naoki Miyanishi would walk Asamura with one out, setting up a chance. Takeya "Okawari-kun" was up after going 0-5 up to that point. On a low pitch, he pulled one to the left field stands and ended the game in sayonara fashion. It was the third sayonara win for the Lions this year and second on a home run from Okawari-kun.
Had the Fighters spent a few innings not playing for one run, they could have won this with a reserve starter, but the offensive power of the Lions bailed out a poor start from Togame.
In Sunday's game against Chiba, the Lions got off to a good start from an RBI by Okawari-kun. Chiba would tie it at 1-1, but Akiyama would get his 200th hit of the season with an RBI single of his own to put the Lions in front again.
Yusei Kikuchi looked like he was cruising, but the top of the seventh is where the damage was done. Takashi Ogino would safety squeeze to allow one run, but a throwing error from Kikuchi put the Marines on top. Alfredo Despaigne would add on with a two-run single for a 5-2 lead.
The Lions chipped away in the seventh with a gapper by Mori and a single from Akiyama, but it wasn't enough. They had their best chance in the eighth inning off Tatsuya Uchi where Okawari-kun and Mejia were on base with one out.
Mori and Shogo Saito would strike out swinging and end the frame, effectively making sure Chiba would win. Yuji Nishino closed the game and the Lions fell back to only two games in front.
In the game in Sendai against Rakuten, the Lions would have no offense on the night. Takahiro Norimoto would go seven innings without a run and have 11 strikeouts.
Wakiya would be in scoring position for the fourth inning, but Asamura, Okawari-kun and Mejia would strike out consecutively to end any threat. With two outs in the fourth, Zelous Wheeler would hit a two-run home run which would be enough for the Eagles to win. Ryo Hijirisawa would add another run through a sacrifice fly as insurance.
Yuki Matsui shut the door and the Lions would lose two straight to end the series of three consecutive games in as many different opponents.
The Lions will face Softbank this week as well as the Fighters in Sapporo Dome. We can only hope they take two out of the three games, but none of them will be easy.
They will also need Chiba to lose to the Fighters with several makeup games happening this week. After that walkoff against Hokkaido, it looked like this team would be smooth sailing, but this race for third looks to come down to the wire.
===
Follow us on Twitter @GraveyardBall