Photo Credit: Seibu Lions
The Saitama Seibu Lions
announced
they signed IF Shogo Kimura on Friday afternoon. After five days of trying out with the team, the Lions chose to sign him well-before the deadline of his tryout window.
Kimura, who will turn 36 in April, is an infielder mostly at SS and 3B. He will make about ¥200 million yen and wearing No. 0,
according to a report
by Daily Sports.
The Lions have been playing him at SS in
spring training camp as this chart shows
(See the 木 [Ki] in Kimura's name). He could be part of a rotation at SS with Yuji Kaneko, Yuji Onizaki and Kyohei Nagae. It's also possible to play him as a defensive replacement at 3B for Takeya "Okawari-kun" Nakamura. Manager Norio Tanabe is known to put an all-defense lineup in the late innings to secure a win when the closer in on the mound.
Kimura gives the Lions another option with more flexibility on the infield. He also has 41 career games at 1B and 62 at 2B. He even played 32 games in the outfield, which could give Tanabe another fall back option, similar to how he did with Ryota Wakiya last year.
Previously, he played for the Hiroshima Carp for the last eight years where he was a serviceable reserve. He was originally part of the Yokohama DeNA Baystars from 2003-2007. He has a lifetime .269 batting average over his 13 year career at the ichi-gun level.
With Kimura on the 70-man roster, the Lions officially have 69 players under contract with no one on the ikusei roster. It's possible they could sign someone if necessary, but there is a good chance they are done with additions for the 2016 season. He is the second domestic free agent to sign after a tryout, with the other being OF Naotaka Takehara.
I'd like to see Kaneko and Kimura rotate at SS with Onizaki buried in ni-gun. I don't have issues with Nagae on the first-team as a defensive sub. Kimura can also be a pinch hit option in the event the catcher or RF position is batting late in the game.
Welcome to the Lions, Kimura. Good luck for 2016.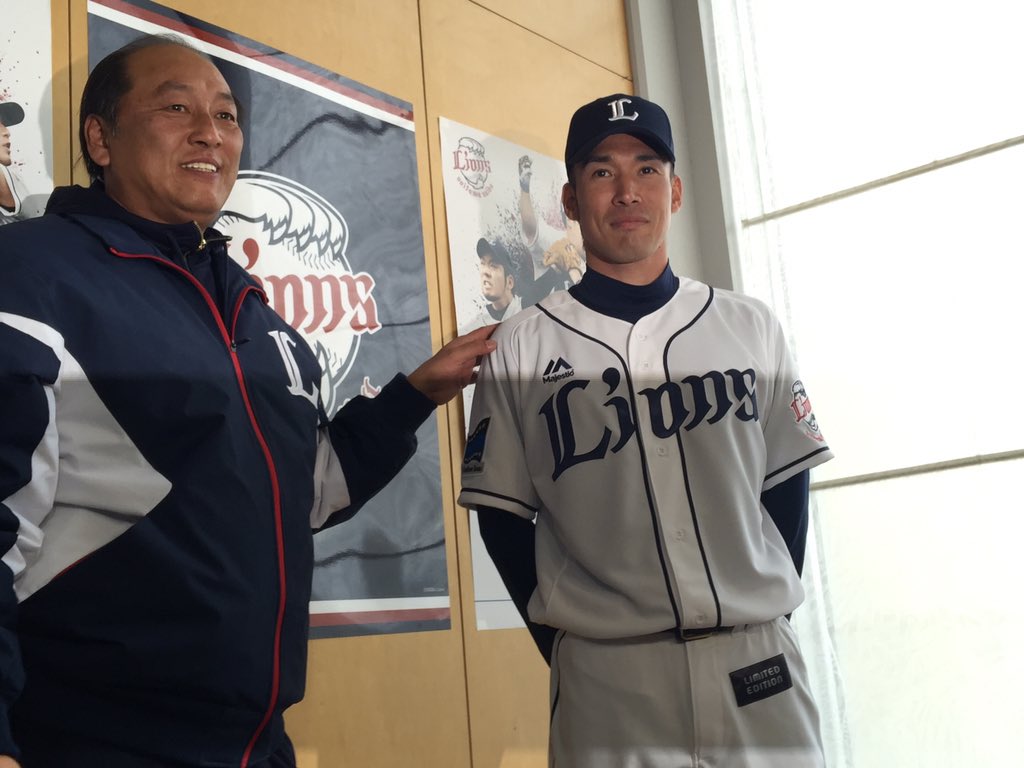 Photo credit: Seibu Lions Twitter
===
Follow us on Twitter @GraveyardBall