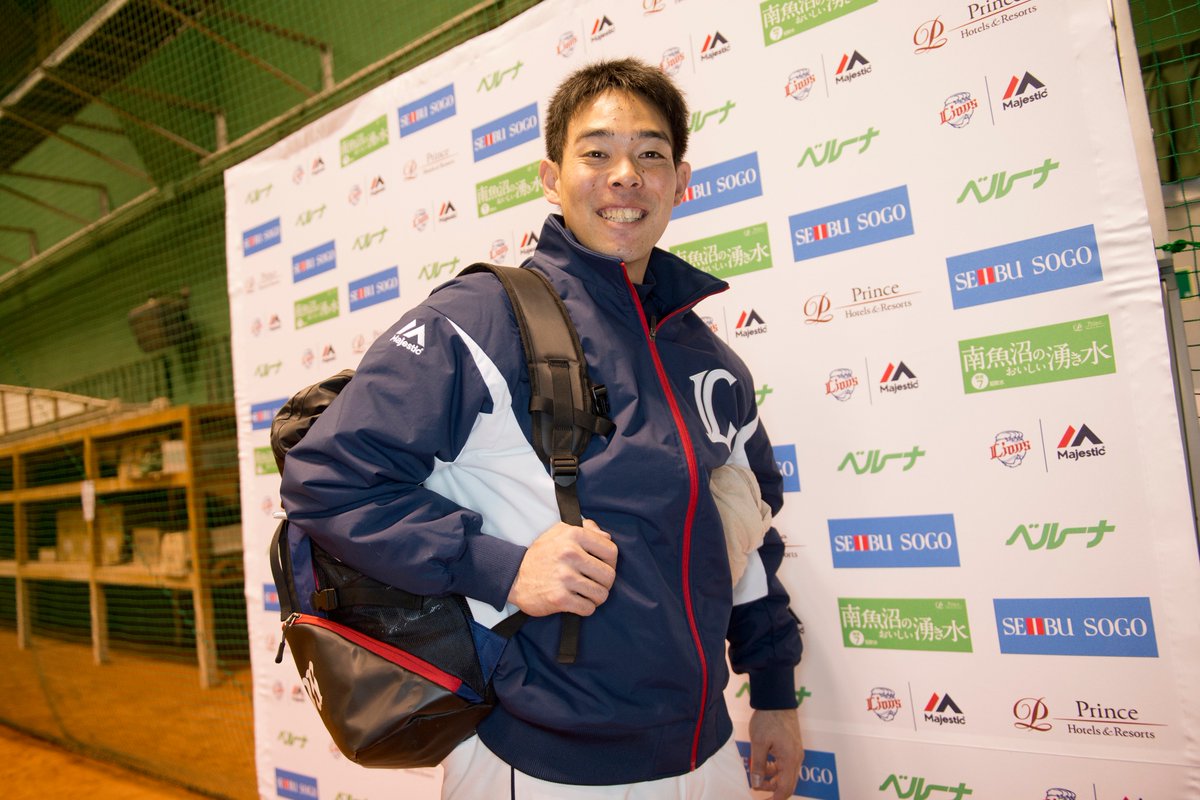 Shogo Akiyama came off a historic season in 2015
Spring training began for all 12 teams on February 1. Position and roster spot battles will commence as a result. This will be the first of many position battles we'll be looking at closely for the Saitama Seibu Lions roster. In our first chapter, we'll be looking at the outfield for the Lions.
Overview:
This was a position that was mostly settled with two primary outfielders and a revolving door at the RF position. The Lions would have the right field done by committee based on the matchup they saw with the opposing pitcher. It was not platooning per say, because several guys had reverse splits or saw time even if someone batted right handed and the pitcher was a righty, which was the same for a lefty. Last year, the Lions had 11 different players start at least one game in right field.
Starters:
Shogo Akiyama: Akiyama came off a single-season hits record 2015 season, where he now is standing alone with 216 hits. This included a 31 game hit streak. While it will be unreal to ask him to repeat a season of his caliber, he should be a great leadoff hitter heading into 2016 and be the everyday starting CF. His range and arm are both adequate in the field, but his plate discipline was even smarter, where he constantly stated his goal was to get on base, not be selfish for a hit.
Takumi Kuriyama: After having a slow start to the 2015 season, Kuriyama rebounded and got his average up to .268, but there were times he was benched and his order in the lineup fell as low to batting seventh. The team's captain had a reduced role by the season's end and he hopes to have a stronger 2016. Defense will be fine in LF, but he is usually subbed in the ninth inning for someone with better range if necessary.
===
Lock to make the ichi-gun:
Shogo Saito:
Saito is primarily in for his defense as a replacement player. However, it plays an important role as Norio Tanabe likes using him in the late innings in place of Kuriyama in left field, or possible taking over whoever was in right field. He appeared in 103 games last year and started a handful of them. Saito should remain the fourth outfielder on the team for 2016.
The Committee:
The Lions will have several players called up and down throughout the season and this year shouldn't be different. They will base their decisions on sabermetrics, as well as film study when seeing the opposing pitcher's tendencies, figuring out the best matchup possible. It's very clear that these choices are not just paper stats and looking at a computer. Several players have hit a home run out of nowhere due to research and studying the opposition as a right fielder.

Tomoya Mori: What? A catcher being listed in the outfield? Mori was a right fielder for 23 games last season, which included the interleague games on the road where there was no designated hitter. If the Lions choose to have Takeya "Okawari-kun" Nakamura as the DH, Mori would need to go in the field. Right field is where they had him due to it being the flex position.
Mori has the arm to be an outfielder, but the range is lacking. There could be more growing pains if they want his bat, but fielding can be a liability.
Fumikazu Kimura: A former first round pick who is a converted pitcher, Kimura had one strong week of hitting home runs, but was a flash in the pan. He even had a Grand slam against the Softbank Hawks last year in a clutch moment. After playing 100 games in 2014, he only appeared in 49 last season due to poor hitting. He could provide some pop depending on the pitcher.
Naotaka Takehara: Takehara was a tryout signee last fall. He was released by the Orix Buffaloes and initially began his NPB career with the Chiba Lotte Marines. Previously known for having poor range, fielding and plate discipline, he was productive with the bat in a limited playing time with Orix. The Lions will not want him to start every game, but he could be useful for a certain matchup. He hit .271 in 62 games combined from 2014-2015. At most, he will play about 50 games in right field.
Yutaro Osaki: Osaki appeared in 47 games last year and started only a handful of them. He could be a pinch hitter most of the time, but wasn't bad in that role when Tanabe wanted to insert him into the 8th or 9th spot in the order. He should appear in 50 games at most.
Ryo Sakata: Sakata battled an injury which sidelined him for the entire 2014 season after showing promise in 2013. His lack of hitting kept him in ni-gun for 2015 and he only appeared in 15 games total with the ichi-gun. He will have to earn his way back to the top team if he wants playing time.
The Bench:
Masato Kumashiro: Kumashiro was a late game substitute for defense in right field. He appeared in 38 games total last year and was also available as a pinch runner/hitter. His best play was the diving stop to preserve a 1-0 win in Omiya. Unlike Hisashi Iwakuma's name being a "Bear" with his "Kuma" kanji (
岩隈
)
being part of it, Kumashiro's name legitimately has the correct Kuma kanji (
熊) for bear. A few select fans will have bear hats or suits in his honor. Iwakuma actually means shadow of a rock/stone.
Shotaro Tashiro:
Tashiro was the extra pinch runner and defensive replacement when the Lions would deactivate a starting pitcher temporarily for a few games due to a lengthy break ahead. His most remembered play in 2015 was when he stopped a ground ball going to a shortstop, taking himself out and preventing a double play to end the inning. The Lions would eventually win the game with a game winning base hit. If he shows good range, he could earn his way to being a frequent replacement player.
The Farm:
These are players who should be in ni-gun most likely for most of the year. Not much data will be known on them besides ni-gun stats.
Aito Otaki
: Otaki was the Fourth round draft pick of the Lions last fall. He is a rookie coming from Hanasaki Tokuharu High school, the high school which represented Saitama prefecture in the 2015 Koshien Tournament.
Hitoto Komazuki:
Komazuki was a third round pick of the Lions in 2011. He has no experience with the ichi-gun entering his fifth season in the organization.
Daisuke Togawa: Togawa was an ikusei draft pick from 2014. The Lions promoted him to the 70-man roster in November.
The Tryout:
Shogo Kimura: Shogo Kimura is mostly known as a reserve infielder, but has 32 games in his career in the outfield. If the Lions sign him to the 70-man roster, Tanabe will have the option to insert him in right field if he wants his bat for a given game.
Overall:
This position should not be a battle in camp, but rather establishing a reliable bat. The right field position most likely won't have an everyday outfielder, but it's possible that they could approach the number of players who started in right field last year. They have 11 outfielders under contract not counting Mori and Shogo Kimura is an outside option in the event he signs with the team.
We can only hope the defense will be respectable with reduced errors. Range should be fine unless Mori is starting in right field.
===
Other positions:
Catcher
Starting Rotation
Bullpen
Infield
Manager Norio Tanabe
===
Follow us on Twitter @GraveyardBall