With the Japan Series now over, attention turns to free agency and the offseason. Takayuki Kishi
informed
the Saitama Seibu Lions that he will exercise his international free agent option and test the market on Wednesday morning (in Japan time).
Kishi, who will be 32 in December, is eligible to sign anywhere as an international free agent for the first time in his career. He has been the Lions best pitcher over the last decade and put himself on the map during the 2008 Japan Series by winning the MVP award.
In 2014, Kishi threw a no-hitter against the Chiba Lotte Marines and it's the last one to happen in NPB. Last year, Kishi missed two months of action with an abductor muscle injury, but went 9-7 with a 2.49 ERA in 130.1 innings.
When healthy, Kishi's value have been important for the Lions and it would be a huge loss if he were to walk to another team. Here is the current path choices that Kishi could take based on reports:
Return to the Lions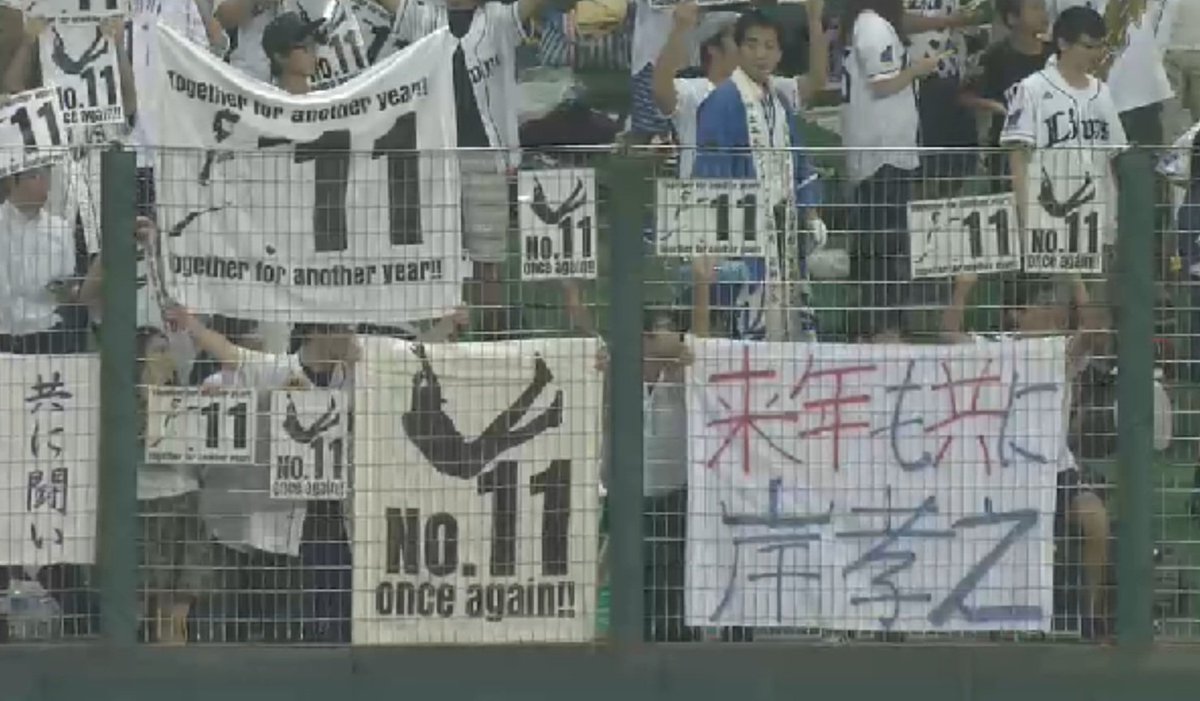 In his last game with the Lions, fans put up graphics wanting him to return. The sign on the right says fans want to be with Kishi.
The Lions reportedly offered him a four year contract, but it wasn't enough to get him to sign without filing his option. It's possible that this is all about testing the waters to see his value and possibly find a better offer elsewhere. Kishi wouldn't commit one way or another after his final game, but there is still a change he can come back.
===
Sign with the Rakuten Eagles
The Eagles are the only NPB team known to openly want Kishi at the time of this writing. Location makes even more sense, as he went to university directly in Sendai and is a Miyagi prefecture native. In a lot of ways, he would be returning home if he signed with the Eagles based on geography. This doesn't mean the Eagles were his team growing up, as they didn't exist when he was a child and only started as a franchise in 2005, his junior year at University.
Last year, the Eagles signed former Chiba Lotte Marines infielder Toshiaki Imae and it's likely they aren't scared of opening up their checkbook. Manager Masataka Nashida and the Eagles cleaned house with several players cut, making plenty of room in what is a new era for the team.
===
Sign with another NPB Team
There hasn't been any links about other teams who are interested in Kishi, but adding him wouldn't hurt their rotation. Maybe a dark-horse comes in with an offer?
===
Sign with an MLB Team
This would be an unlikely scenario given his age, but he is eligible. If Kishi signed with someone in North America, it would presumably be for less money than what Japan would pay him. However, it would give him an opportunity he wouldn't get elsewhere in the States (or Canada). There is no way he signs to a similar contract to what Seung-Hwan Oh made with the St. Louis Cardinals, but if someone wants a cheap minor league signing for organizational depth, it wouldn't hurt them.
===
So what is likely to happen?
Here's how I see it happening: If he gets an excessive offer from the Rakuten Eagles, he is as good as gone. The Lions are known to not value the ace or top pitcher to make them the highest paid player on the team. Ernesto Mejia will make around $3.5 million in 2017 and should be the highest paid Lion based on the year he had.
If any team gives Kishi a five year offer with the first year being more than Mejia's salary, say goodbye. There is no way the Lions match an offer and win a bidding war of a $4 million salary and/or lengthy offer. Of course if an MLB team has interest and he wants a chance to see what it's like in North America, there could be a chance he leaves.
However, it is still likely that it will be a bidding war between Rakuten and the Lions for his rights. If he signs with the Eagles, the Lions presumably will get compensation through either cash + unprotected payer or more cash. Last year when the Eagles signed Imae, Chiba took the cash option and with the way their roster is through a wave of rebuilding, it wouldn't be surprising if the Lions did the same.
===
Follow us on Twitter @GraveyardBall