Brian Schlitter was signed by the Saitama Seibu Lions last week to a one year contract. He will make an
estimated 80 million yen
($800K) for the 2017 season.
After signing him to a contract, he was given uniform number 47 and had a brief
introductory press conference
. Here is a transcript of what he said below:
Intro:
"My name is Brian Schlitter, I am from Chicago, Illinois, and I am very excited to be here, very happy."
===
On differences between American and Japanese Baseball:
"In a lot of ways it's similar to American Baseball, but at the same time, it's different. Everyone seems to be happy to be here and everyone makes the most of their opportunities. Everyone is giving their best."
===
On playing in Japan:
"I'm looking forward to it. I'm ready for this season and I know right now it's still early, but it feels like it's going to be a good season."
===
On profiling yourself as a pitcher:
"I am typically a power pitcher, per say. I give my best every single pitch. I'm very determined and I think that's a good thing to have in a pitcher and I can assure you that every time I pitch, I am giving everything I have."
===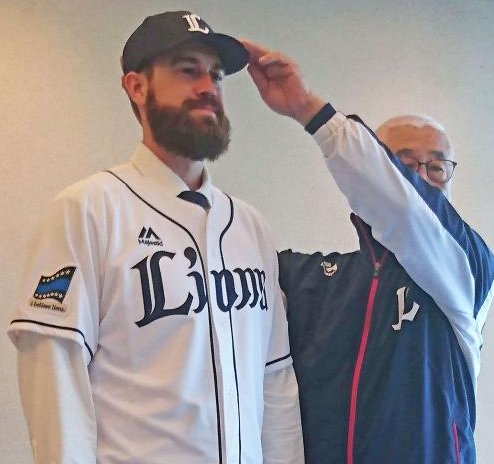 Schlitter's measurements:
Date of Birth:
12/21/1985
Height:
195 cm (6' 5")
Weight:
106 kg (234 lbs)
Teams played for:
Philadelphia Phillies (minors only), Chicago Cubs (2010, 2014-2015), Colorado Rockies (minors only)
===
Schlitter will remain with the team in fall camp until November 17 in Miyazaki prefecture.
===
Follow us on Twitter @GraveyardBall