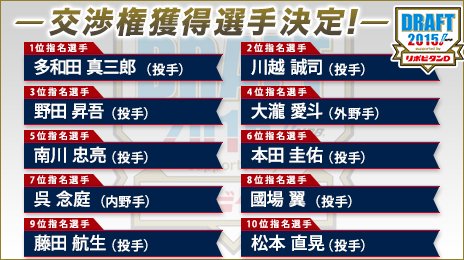 The Lions announced their draft picks and posted them via Twitter.
The 2015 NPB Draft has come and gone and the Lions took several players which ended up being a club record. Here, we will look at each player with a brief recap. There will a more in-depth analysis on the first round pick soon. (Origins and names were given with the help of Yakyubaka). Information on these players comes with the help of Google Translate.
First Round: RHP Shinsaburo Tawata (Fuji University)
DOB: 04/13/1993
HT (cm) /WT (kg): 182/82
The Lions opted for a pitcher out of University and went the safe route hoping to find a someone to contribute right away. Tawata has a maximum velocity of up to 152 Km/H (94 MPH). He has a slider, forkball, fast ball, sinker and curve ball in his arsenal, but has the zip to be helping the rotation immediately. In college, he had an impressive strikeout ratio of 9.73. Tawata also pitched a no-hitter once.
From Kazuto Yamasaki:
"Tawata can touch 94 mph with his fastball and mixes in a quality slider. His control has been an issue at times. A sore right shoulder has sidelined him since late-May."
===
Second Round: P Seiji Kawagoe (Hokkai Gakuen University)
DOB: 06/30/1993
HT (cm) /WT (kg): 174/80
Kawagoe can be a two-way player as he also was an outfielder in college. He has a max velocity of 149 KM/H (92 MPH). Interesting thing is how most of his scouting reports have him as an OF, but the Lions drafted him as a pitcher. Ten years ago, the Lions took Fumikazu Kimura as a pitcher in the first round but he made the transition to playing OF. Seems that Kawagoe has the OF as a fallback option if pitcher doesn't work out. From reading his scouting report, he has speed and the Lions could have him as a PH or PR option if they wanted to. According to the Lions management, he has the change to be a setup man.
===
Third Round: LHP Shogo Noda (Seino Unyu)
DOB: 06/27/1993
HT (cm) /WT (kg): 167/73
Noda was taken out of the industrial league, the same team Tomoni Takahashi once played for. Noda has less zip of 147 KM/H (91 MPH) but appears to be help for the bullpen. He looks like a breaking ball specialist with a hard slider and could be useful for lefties in the Lions bullpen. Noda looks like he's built for 1-2 innings at most. At 167 cm, he has a small body, but the ball movement he possesses seems valuable, according to the Lions front office.
===
Fourth Round: OF Aito Otaki (Hanasaki Tokuharu High School)
DOB: 04/06/1997
HT (cm) /WT (kg): 179/84
Some reports had him as one of the best high school outfielders possessing both range and an arm. He's known for his speed primarily, but in a few years, he could be a threat with his bat as well. He led Hanasaki Tokuharu to a quarterfinal appearance in the Koshien tournament last August. Hanasaki Tokuharu is from Saitama Prefecture, the same one as where the Seibu Dome is. Lions management saw a balanced offense and defense from Otaki.
===
Fifth Round: RHP Tadasuke Minamikawa (JR Shikoku)
DOB: 01/13/1992
HT (cm) /WT (kg): 180/84
Minamikawa is best known for his slider and forkball. His fastest velocity is 150KM/H (93) on the gun and is still developing his fastball. Another industrial league pitcher selected, the Lions look to use him in the bullpen.
===
Sixth Round: RHP Keisuke Honda (Tohoku Gakuin University)
DOB: 04/24/1993
HT (cm) /WT (kg): 179/80
No, that name is not a typo. He is not the soccer player of the same name playing for AC Milan, but Honda did come from the same university as Takayuki Kishi. Honda's best pitches are his curveball and slider, but his changeup will need some improvement. It appears the Lions liked this pitcher as early as elementary school and they hope he can be a rotation pitcher in the long term.
===
Seventh Round: IF Nien-Ting Wu (Daiichi Kogyo University)
DOB: 06/07/1993
HT (cm) /WT (kg): 178/75
The Taiwanese born Wu can play both 2B and SS on the infield. He also has speed as his specialty and can hit for average. He was considered to be the best 2B in Okayama prefecture (near Hiroshima prefecture).
===
Eighth Round: RHP Tsubasa Kokuba (Daiichi Kogyo University)
DOB: 12/05/1993
HT (cm) /WT (kg): 181/81
Kokuba can hit 148 KM/H (91 MPH) on the gun, but is still a work in progress. His best pitch is currently a forkball, but can improve his slider and curve in the longterm. In the future, he could develop into a righty specialist with the Lions ichi-gun team. Lions management like his velocity and power, saying he won't be seen in the short term.
===
Ninth Round: LHP Koki Fujita (Hirosaki Kogyo High School)
DOB: 12/11/1993
HT (cm) /WT (kg): 175/66
Fujita is raw and his max velocity is 143 KM/H (88 MPH), but he is coming out of high school and has potential to improve his fastball. Lions management liked his curveball and changeup, saying he can be a rotation pitcher in the future.
===
Tenth Round: RHP Naoaki Matsumoto (Kagawa Olive Guyners)
DOB: 11/14/1990
HT (cm) /WT (kg): 179/78
Matsumoto was taken out of the Shikoku Island independent league and is the oldest player taken by the Lions in 2015. He will be 25 in November and the curve ball is his specialty. He can hit 151KM/H (93 MPH) on the radar gun and also has experience at playing third base. Lions management likes Matsumoto as a middle reliever.
===
FINAL REACTION:
The interesting thing is how the Lions went out of the box taking 10 players with no one in the ikusei round. There was no industrial league pitcher taken in the first round by any team, but the Lions might have picked up reasonable value in the third round when taking Noda.
Pitching was a concern of the team as the 2015 season ended and there will be plenty of competition in Miyazaki this winter. The back end of the rotation is uncertain while the middle relief of the bullpen is shaky. I would expect the first three draft picks to contribute in 2016 whether it's the bullpen or rotation, but everyone else is a project after that.
===
Follow us on Twitter @GraveyardBall