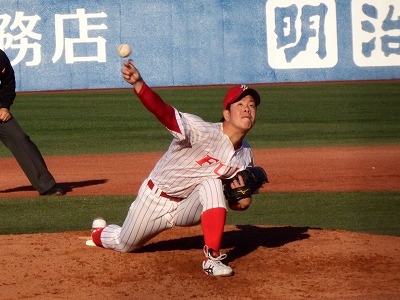 The Saitama Seibu Lions general manager Haruhiko Suzuki announced that the team intends to draft Shinsaburo Tawata with their first-round draft pick on Wednesday night
as first reported by Yahoo! Japan
. Tawata is a right handed pitcher coming out of Fuji University in Hanamaki, Iwate prefecture.
After initially looking at high school pitcher Junpei Takahashi and many more, the Lions had narrowed it down to two names according to the media and translated by
@maple_ash
. They were also interested in Aito Otaki out of high school as their second name.
Takahashi may be the most talented player available, but there is obvious risk in going for him with a lottery deciding who will end up with the young pitcher. If the Lions put themselves in the Takahashi sweepstakes and lose, they could end up with their third or even fourth best player on their draft board had they taken the chance.
Instead, the Lions are taking a safe route for immediate help. Despite not knowing any names when writing our draft preview, I speculated that the
Lions would go for a pitcher with their first round pick
. It made too much sense from an on-field standpoint, because there uncertainty in the rotation and bullpen moving into 2016.
Last year, a bad Lions team was able to take the best player on their draft board in Kona Takahashi out of high school. Right now, they need immediate help for their pitching staff as players were flip flopping between the bullpen and rotation at the end of the year.
Yusei Kikuchi could move to the bullpen while Ken Togame, Kazuhisa Makita and Ryoma Nogami spent time out of there at the end of the season despite being in the rotation for most of the year. The only guaranteed starters for 2016 would be Takayuki Kishi (assuming he re-signs as a pending free agent) and Kona Takahashi.
The bullpen took its hit when Tomoni Takahashi struggled as the closer, forcing Norio Tanabe to make a move. He elected for Makita to take the closer role after having experience as a rookie, but it didn't last long and it would become Tatsushi Masuda's job at the end of the year.
They made Nogami a long reliever while Togame and Kikuchi were given reps in the final week of the regular season. With all the question marks regarding the pitching staff, the Lions have intended to give one answer via the draft.
We would expect Tawata to earn his role through spring training in Miyazaki next February and they can insert him where they please in the rotation or bullpen. He should get reps right away out of college and will go through early growing pains in 2016.
If the Lions get Tawata uncontested with their first round pick, we plan to do more analysis, but we will hold off until he is guaranteed to be with the team from Tokorozawa.
We have noticed two other teams announce their draft pick nomination publicly in the Yakult Swallows and Fukuoka Softbank Hawks. A projection was made by television to see how each team will draft on Thursday night. Here's a screenshot of it:
As you can see, the Lions could get Tawata without opposition as he is listed only with Seibu. Of course we do not know how every team will go leading up to the draft. If more announcements were made, please let us know and we can edit.
Here's each team's projected draft pick translated, thanks to Google:
Yakult Swallows: OF Shun Takayama (Meiji University)*
Saitama Seibu Lions: RHP Shinzaburo Tawata (Fuji University)*
Fukuoka Softbank Hawks: RHP Junpei Takahashi (Gifu High School?)*
Yomiuri Giants: RHP Kento Kumahara (Sendai University)
Hiroshima Carp: RHP Kento Kumahara
Yokohama DeNA Baystars: LHP Shota Imanaga (Komazawa University)
Orix Buffaloes: OF Masanao Yoshida (Ayoma Gaku University)
Hokkaido Nippon-Ham Fighters: Junpei Takahashi*
Chunichi Dragons: Junpei Takahashi*
Hanshin Tigers: Junpei Takahashi
Chiba Lotte Marines: LHP Shinnosuke Ogasawara (Tokaidai Sagami High School)
Rakuten Golden Eagles: SS Taiga Hirasawa (Sendai Ikuei High School)
*Announced their pick
First thing to note from this projection is how the Giants would face a rare lottery if the Carp took Kento Kumahara and it stays true. The other thing to point out is how Chiba and Rakuten would take players from the final two teams in the Koshien Tournament, as Sendai Ikuei and Tokaidai Sagami were both finalists. Clearly it shows a tournament can up one's stock.
While this is just a guess from a Television network, it is nice to have a projection out. Hope everyone enjoys the draft at 17:00 JT tonight.
===
Follow us on Twitter @GraveyardBall