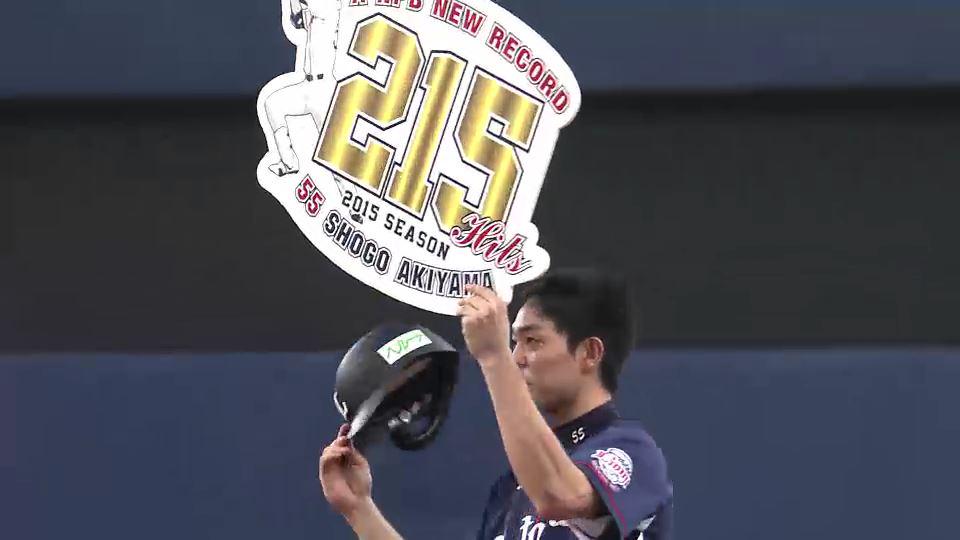 The Lions would go 3-2 this week against the Rakuten Golden Eagles, Chiba Lotte Marines and Orix Buffaloes combined. However, a new record was hit with Shogo Akiyama beating out Matt Murton's record in hits for a single-season.
Game 1 against Rakuten saw their ace in Takahiro Norimoto, who went seven innings. Tomoya Mori would hit a solo home run off of him early, but the Lions couldn't score more. Norimoto pulled off several Houdinis and Seibu couldn't punch in more runs.
Kona Takahashi had a great effort going 7.2 innings despite an inherited runner left on base in the eighth. Kazuhisa Makita would come in and give up an RBI single to Zelous Wheeler and the game was tied.
In the bottom frame, the Lions loaded the bases thanks to a base hit from pinch hitter Yuji Onizaki with Hideto Asamura up. Despite struggling in the second half, Asamura hit a grand slam to put the Lions up 5-1 and seal it. Tatsushi Masuda closed it out while Chiba lost to the Hawks on this day.
Game 2 against the Eagles saw a good start from Ginjiro Sumitani hitting a home run that was reviewed where he barely pulled it fair in left field. Naoto Watanabe would later plate Shogo Akiyama with a single to make it 2-0.
Ryota Ito would get the Eagles within a run with a solo home run, but that was all Ken Togame would give up. Yudai Mori would allow an RBI single to Hotaka Yamakawa later in the game and the Lions pulled away in the 8th with two unearned runs thanks to a throwing error by the Eagles.
Hichori Morimoto played his final game and had a chance with the bases loaded to get a hit. However, he would ground out to third. Other developments included Tomomi Takahashi being deactivated due to a foot injury in Game 1. He took a line drive to the foot and was lost for the season.
They would win by an identical score of 5-1 to keep a 1.5 game lead heading into a big showdown.
On Monday's game against Chiba, the Yusei Kikuchi had no answer for Alfredo Despaigne, who had three RBIs including a two-run HR. Tomoya Mori would hit a two-run home run off Ayumu Ishikawa, but it wasn't enough.
This would be the final career game for Fumiya Nishiguchi, who came in the fifth inning with applause and an ovation as the crowd had towels with "13" on it. He would walk Tadahito Iguchi as the only batter he faced.
Luis Cruz would add an RBI later and the Lions bats were dead after Takeya "Okawari-kun" Nakamura struck out in the third. In what was an important game, Chiba was only behind by 1/2 heading into Wednesday.
In the first game against Orix, it was a Lions runfest from the start with Akiyama getting a leadoff double. After a sequence of multiple errors, blunders and hits, the Lions would cruise to victory with a 15-6 win. They would pound Daiki Tomei with seven run through three innings.
Akiyama went 5-5 in the game with two walks, tying Matt Murton's single-season hits record and even had a chance to break it on Wednesday night. He walked in the ninth inning, but the Lions would cruise to a victory in what was a spot start for Ryoma Nogami.
In the final game of the season, Yosuke Okamoto woudl have a slow start in the first inning with two runs on the board thanks to a sacrifice fly from Takahiro Okada and Eiichi Koyano gapper.
After having a rough season with injuries, Bryan Bullington would go six innings and not allow a hit until the fourth which came from an infield single by Asamura.
Akiyama would ground out and strikeout to begin the game, but a chance came in the sixth inning with nobody on. Third baseman Takuya Shimada would clutch and Akiyama would beat out the throw for an infield single, passing Matt Murton's all-time single-season hits record with 215 overall.
In a bullpen game, Ken Togame would give up a double to Yuya Oda and Kikuchi was forced to come in with an inherited runner. Yoshio Itoi would go yard, giving Orix an insurmountable 4-0 lead in the seventh. Akiyama was able to get a triple in the 9th to pad his number and score on a single from Watanabe, but it wasn't enough.
The Lions fell to 1/2 game behind Chiba and with the Marines having five makeup games, it is looking impossible for Seibu to make the postseason. As a .500 team, they had all the chances to pull away in the second half, but a 13-game losing streak has nailed them in. While it's easy to be scoreboard watching, the Lions have no one to blame but themselves.
It's been a fun season despite all the disappointments. At least they were playing meaningful baseball in September, unlike our MLB A's.
===
Follow us on Twitter @GraveyardBall