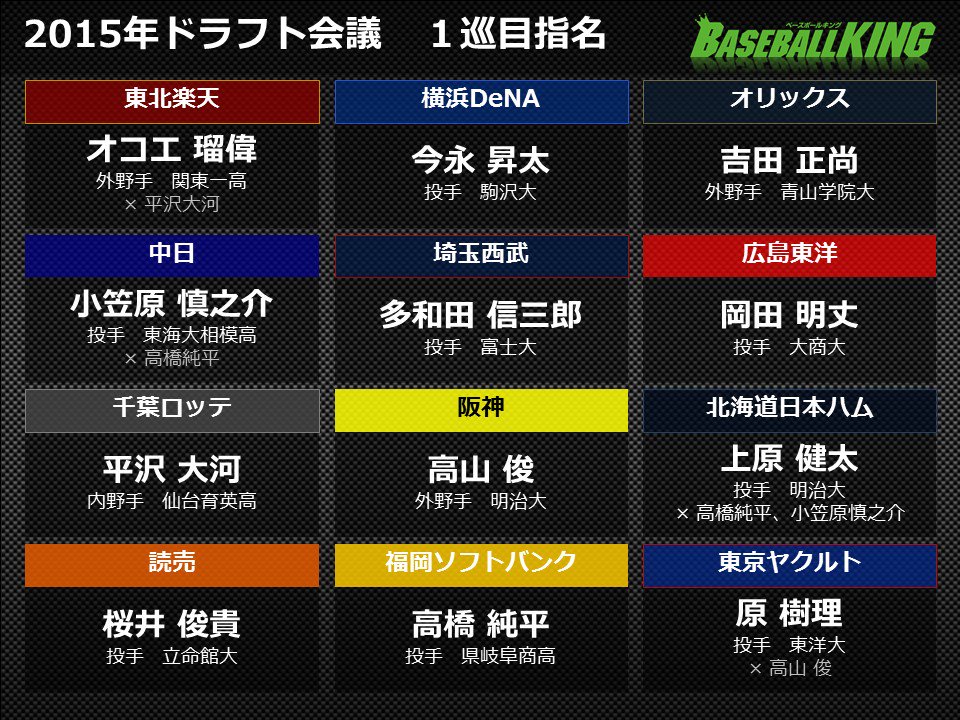 This is how the draft panned out in the first round. Photo credit to Baseball King JP
The first round of the 2015 NPB Draft concluded and the Saitama Seibu Lions landed the player they intended to draft in Shinsaburo Tawata out of Fuji University. He's a right handed pitcher who is 22 and can be inserted into the rotation right away.
Tawata appears to be a nibbler according to a scouting report. He has a fastball that can be as quick as 94 MPH (152 KM/H). The Lions have had a history with industrial league and high school pitchers, but it hasn't been an easy road with university pitchers.
Previously they took Tatsuya Oishi who has been stuck in ni-gun after suffering an injury previously. The Lions took a player who can help immediately, but can they develop him? Tawata has questionable control issues which could hurt them later. We hope to have full analysis of the Lions first-round pick soon.
All 12 teams sit at the table and take players, no "war room" from far away.
Here is how the other draft picks panned out:
Rakuten Eagles: Rui Okoye, OF, Kanto Daiichi HS
Yokohama DeNA Baystars: Shota Imanaga, LHP, Komazawa Univ
Orix Buffaloes: Masataka Yoshida, OF, Aoyama Gakuin Univ
Chunichi Dragons: Shinnosuke Ogasawara, RHP, Tokaidai Sagami HS
Seibu Lions: Shinzaburo Tawata, RHP, Fuji University
Hiroshima Carp: Akitake Okada, RHP, Osaka Shogyo University
Chiba Lotte Marines: Taiga Hirasawa, SS, Sendai Ikuei HS
Hanshin Tigers: Shun Takayama, OF, Meiji University
Nippon Ham Fighters: Kenta Uehara, LHP, Meiji University
Yomiuri Giants: Toshiki Sakurai, RHP, Ritsumeikan University
Softbank Hawks: Junpei Takahashi, RHP, Ken Gifu Shogyo HS
Yakult Swallows: Juri Hara, RHP, Toyo University
===
In early reaction, the rich got richer when Softbank landed Takahashi in a three-way lottery. Not as many teams selected him like I thought they would. The Chunichi Dragons ended up with the reigning champion pitcher from Koshien out of Tokaidai Sagami HS.
Chiba got a talented SS in Taiga Hirasawa, after only Rakuten contested them. Despite having pitcher question marks, the infield for them was also uncertain. The Fighters were drafting alone after striking out twice, but Uehara should be a good pickup for them.
Our biggest puzzling moment was when we saw Yakult appear to have won the rights for Shun Takayama, but Mitsuru Manaka was excited and didn't realize his envelope meant that he lost. The Hanshin Tigers took the outfielder from Meiji.
===
In the meantime, here are the Seibu Lions draft picks for 2015:
1. RHP Shinzaburo Tawata - Meiji University
2. LHP Seiji Kawagoe - Hokkai Gakuen University
3. LHP Shogo Noda - Seino Unyu (Industrial League)
4. OF Aito Otaki - Hanasaki Tokuharu HS
5. RHP Tadasuke Minamikawa - JR Shikoku
6. RHP Keisuke Honda - Tohoku Gakuin University
7. IF Nien Ting Wu - Daiichi Kogyo University
8. RHP Tsubasa Kokuba - Daiichi Institute of Technology
9. LHP Koki Fujita - Hirosaki Kyogo HS
10. RHP Naoki Matsumoto - Kagawa Olive Guyners
More will come recapping the draft as it all concludes. We will have plenty to analyze with this new draft class. Stay tuned.
===
Follow us on Twitter @GraveyardBall