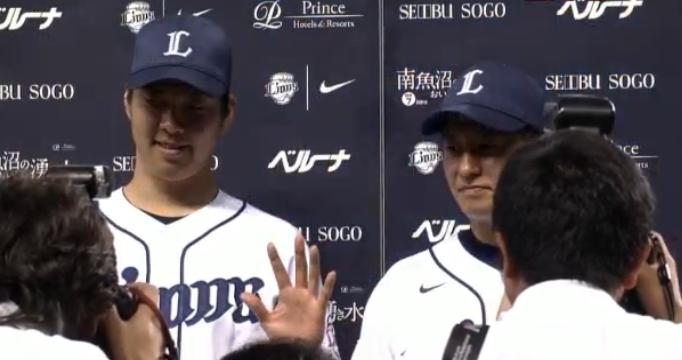 Since our last update, the Saitama Seibu Lions went 3-3 against the Fukuoka Softbank Hawks, Rakuten Golden Eagles, Chiba Lotte Marines, Hokkaido Nippon-Ham Fighters and Orix Buffaloes combined for six games.
In Thursday's game against the Hawks, the nightmare scenario happened where the magic number was one while the Chiba Lotte Marines didn't play. Previously, they did not have to face Shohei Otani due to a rained out game at QVC.
Kona Takahashi would only last four innings and had no answer for Nobuhiro Matsuda with a two run home run. The Hawks would tack on five runs total and the Lions were off the board mostly until the late innings. Takeya "Okawari-kun" Nakamura would get a two run double, but it was too late. The Hawks would clinch the Pacific League pennant in front of the Lions with a win as Dennis Sarfate shut the door. It was their second straight Pennant with no drama.
On Saturday's game, the Lions were forced to face Otani and he would have a complete game with 11 strikeouts, two hits, two walks and one earned run. Kazuhisa Makita would only last 2.1 innings and allow three runs in the first. Kensuke Kondo would do most of the damage going 4-4 with three RBIs. Ryota Wakiya also got hurt on a collision at home plate and was deactivated as a result.
For Sunday's game against the Fighters, the Lions jumped out to a 5-0 lead which included RBIs from Ginjiro Sumitani and a home run. The sixth inning would be costly as Takayuki Kishi created his own jam and nibbled the strike zone facing the top of the order for the third time.
Kensuke Tanaka and Sho Nakata knocked out Kishi while Shota Takekuma couldn't get get an out. Brandon Laird would put the icing on the cake after a three-run home run against Yosuke Okamoto to put Hokkaido up for good at 7-5, scoring seven runs in the inning.
The Fighters added two more while Ernesto Mejia got a two-RBI hit, but it was too late. It would be the Lions' fifth straight loss.
The first game against Orix had a good start where despite Shogo Akiyama sacrifice bunting. Naoto Watanabe filled in at 3B for Okawari-kun while Yuji Kaneko played his first game in months at shortstop. Kaneko had a double and the Lions jumped out to a 3-0 lead after a double from Mejia.
Ken Togame would go seven innings, but they weren't invincible despite allowing no runs. He had only two strikeouts and escaped multiple jams including one in the first inning. The Lions defense and a few fly balls would preserve a shutout and they would add insurance in the eighth with a sacrifice fly from Tomoya Mori and a walk from Yuji Onizaki. The losing streak was finally over and Seibu would win 7-0.
Game 2 against Orix, the Lions jumped out to a 4-0 lead thanks to a double by Mejia and a three-run home run from Hideto Asamura off Nobuyoshi Yamada. Yusei Kikuchi would go five innings with no runs allowed and got out of a jam in the third.
An error from Kyohei Nagae would result in two unearned runs and Tomomi Takahashi would allow them when inherited. Mori added insurance with an RBI double and Masuda worked a six out save to preserve a win.
For Game 3, the Lions faced a nemesis who had their number in Daiki Tomei. It didn't look good at first when Orix was up 3-1 against Ryoma Nogami. Orix would go up 4-2 after a hit from Akiyama and a safety squeeze to have it as a two-run game.
Mejia would hit his second home run of the day and tie it with a two-run jack in the sixth. Sumitani would get a timely double with two runners on and the Lions took the lead for good at 6-4. Mori added insurance with a double in the seventh and Seibu swept Orix for the third time this season.
Despite sweeping the Buffaloes, Chiba would also sweep Rakuten in the process and are only one game behind with six games in hand. It is remarkable they swept them without Okawari-kun. Things are looking doubtful, but the season isn't over. There's five games remaining for the Lions and all of them are now must-win situations.
Takahashi left the game on Wednesday with a foot injury, but even when healthy he had been struggling. The bats remain bi-polar, but the five games against Rakuten, Chiba and Orix are doable. Our final digest of the regular season will be when they play their final game. Hopefully, they can overcome the odds and retain the third spot.
===
Follow us on Twitter @GraveyardBall