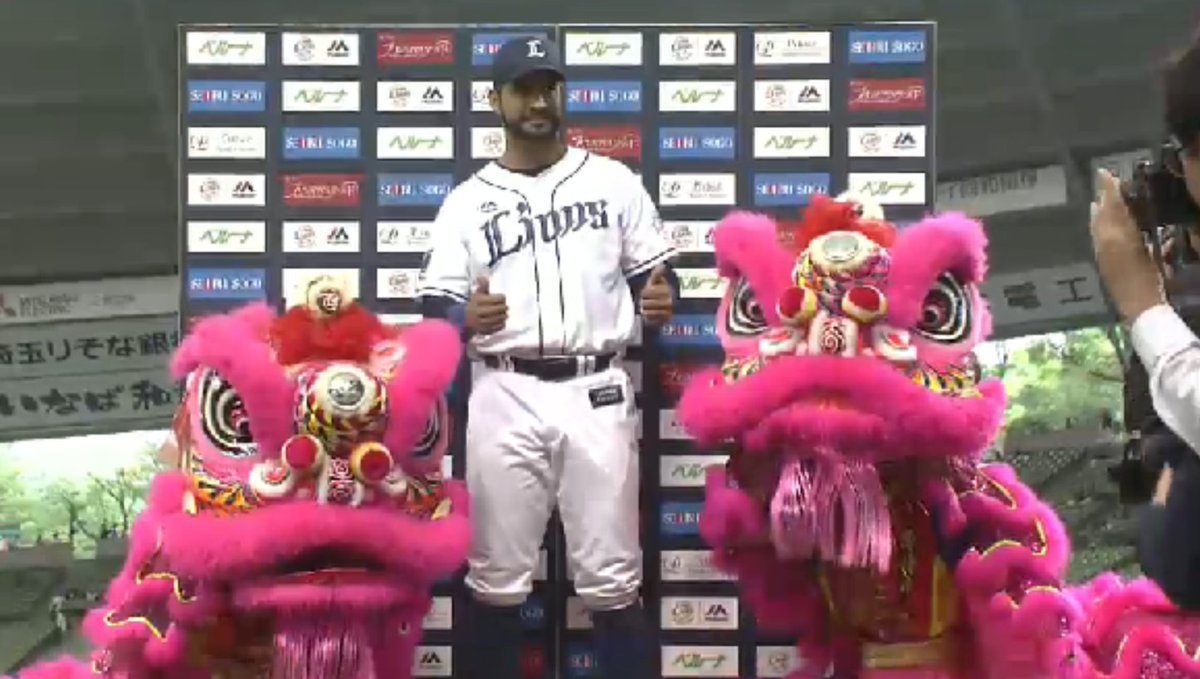 The Lions would go 2-3-1 against the Hokkaido Nippon-Ham Fighters and Tohoku Rakuten Golden Eagles for the week. It was the second consecutive losing week for the team.
===
In Game 1 against the Fighters, it was a rematch from two weeks ago in Takayuki Kishi against Mitsuo Yoshikawa. Kensuke Kondo would open the scoring for Hokkaido with a solo home run in the first inning.
It would be Kishi's only mistake of the night, as he would go six innings without any extra damage. The Lions had their share of chances with two runners on base, but couldn't punch in any runs with two outs. Yoshikawa would get 7 scoreless innings after an embarrassing defeat at Seibu Dome two weeks ago.
The Lions best chance came in the top of the 8th with Chris Martin pitching in relief. Tatsuyuki Uemoto was pinch hitting for Ginjiro "Gin-chan" Sumitani, where he would get a leadoff double. After Yuji Onizaki bunted him over to third, pinch runner Shotaro Tashiro was picked off by Fighters catcher Shota Ono and it cleared any threats. Shogo Akiyama would walk, but was caught stealing second and Ono had his second throw out of the game.
It was a quiet game for the Lions bats while it was a noisy one for Kondo, who had three hits. Shohei Otani also had three hits as the team's designated hitter on the night.
Fighters 1, Lions 0
====
In Game 2, the Lions had Ryoma Nogami take on Masaru Nakamura. After both pitchers had shaky first innings, Nakamura would blink first as the Lions scored three runs off a bases clearing double by Ernesto Mejia. It took a 10-pitch at bat to break the scoreless draw and it was the first time the team scored in 12 innings.
Mejia would do damage again with two outs on a 2-2 pitch in the fifth, taking a deep two-run home run to left field. Best yet, Kondo-san, the Fighters' play by play broadcaster, made the call in English and you can see it here.
In the sixth inning, Akiyama would get an RBI double to make it 6-0. Mejia picked up an RBI single in the 7th and was a triple short of the cycle on the night.
For Nogami, he would survive a scary first inning and cruise through seven innings, with only two earned runs coming in the 7th. He struck out seven and mostly had no trouble with the Fighters lineup. Only Kensuke Kondo would consistently get on base, but that would be it.
Hirotaka Koishi would end the game with two scoreless innings and the Lions padded their lead. After not scoring for a full game, They would explode off a back end depth pitcher from the Fighters.
Lions 9, Fighters 2
===
In Game 3, Anthony Bass would face Yusei Kikuchi on five days of rest. It was a brutal start for Kikuchi, where a routine double play ball ended up being a throwing error on Hideto Asamura. After a simple ground ball, Asamura threw a ball over Mejia's head and the Fighters struck first.
They would get another run in the second inning after Ono would single followed by a double off the wall by Nishikawa, all with two outs. Kikuchi appeared to have settled in afterwards and the Lions would tie the game in the fourth off a two-run home run by Mejia, which was his 5th HR of the year.
There was a chance in the fifth for the Lions with two on, two out, but Sumitani would strike out on full count where it would have been ball 4. In the sixth, Brandon Laird would single and Daikan Yoh, playing as the team's designated hitter would hit a backbreaking two-run home run off Kikuchi to give the Fighters a 4-2 lead.
Seibu had a chance with runners on the corners and Asamura batting on a cold streak in the 7th. He would flyout to centerfield and Onizaki would score from third, but Akiyama was caught trying to tag up as the pitcher served as a cutoff man to throw him out.
Chris Martin and Hirotoshi Masui cleaned up the 8th and 9th innings for the Fighters and the Lions would lose their third consecutive series. For Bass, it was his first win in Japan after being on the unfortunate end of decisions. He would go 6.1 innings with three earned runs total.
This was a game where Norio Tanabe fell for the third time through the order penalty trying to stretch Kikuchi through a 6th inning. Yoh would make the Lions pay with the home run and the mental mistakes would pile up with Asamura and Akiyama's blunders.
Game notes:
-Takeya "Okawari-kun" Nakamura would leave the game with a wrist injury. Bass would strike him on a pitch and it would hit his right forearm. Shuta Tonosaki came in as a pinch hitter and Tatsuyuki Uemoto would pinch hit later in the game.
-This became the 300th career win for Fighters manager Hideki Kuriyama.
-At the conclusion of this game, Mejia would tie Brandon Laird for the most home runs in the Pacific League with five.
-Tomomi Takahashi and Shotaro Tashiro were deactivated after the game for Naotaka Takehara and Yutaro Osaki. Takahashi reportedly has an elbow injury.
Fighters 4, Lions 3
===
In Game 1 against Rakuten, it was Takahiro Norimoto vs. Ken Togame. The Lions jumped out to a 3-0 lead after four innings where Yuji Kaneko had a base hit with the bases loaded and Takumi Kuriyama would slice a gapper.
Togame looked like he was cruising through five with no runs allowed despite a shaky start. The third time through the order penalty would strike in the sixth, where the Eagles tied it up from hits by Zelous Wheeler and an RBI groundout by Kazuo Matsui. Shota Takekuma came in with inherited runners and a pinch hitter in Ryohei Kawamoto was up batting for the first time with an ichi-gun since 2014. He would get a clutch single to make it 3-3.
The Eagles would go on top as Takekuma conceded another RBI to Wheeler in the 7th. Amazingly, the Lions answered back with a game tying two-out hit from Ryo Sakata and went ahead with a single from Onizaki.
Kazuhisa Makita came already allowing an inherited runner, but gave up another run in the 8th to tie it again as Motohiro Shima hit a gapper with two outs. Seibu had a great chance in the 9th off Kodai Hayama. The bases would be loaded with two outs and Takehara, pinch hitting for an already subbed DH spot due to Okawari-kun's injury, was up. He would get a clean single to right field and the Lions went back on top 7-5.
The top of the 9th would be where it all unraveled. Tatsushi Masuda couldn't strikeout anyone with an early single and walk to begin the frame. After Wheeler lined out, Matsui would slice a gapper in LF to bring the Eagles within one and the go-ahead run in scoring position.
The bases would be loaded and Kawamoto was up again. Masuda got a ground ball to Onizaki, but he would botch the throw to second base and it would go to the outfield as the Eagles tied it up. Mitsutaka Goto would be up next and had a ground ball to Asamura, but he would also throw it wide of the plate and the go-ahead run would score making it 8-7 Eagles.
Yuki Matsui would close the game after getting a double play and the Lions lost another one. This game had everything go wrong from errors and giving up hits. Tanabe may have mismanaged Togame with the third time through the order penalty, but his pitch count was far from high, so it's understandable he left him in.
The one thing Tanabe did right, was know when to pinch hit. He made calls at the right moment to give an opportunities as Osaki and Takehara both got at-bats in crunch time. Despite Norimoto starting, the bats did an amazing job making him work for every out and would take pitches outside without issue.
With Tomomi Takahashi out and Okawari-kun hurt, it was already discouraging news that they needed to pick up the slack. That being said, they scored off a poor Eagles bullpen and still couldn't close it out. The Lions in general haven't struck anyone out and it becomes discouraging with how this one ended.
Game notes:
-Masatoshi Okada started for the first time at catcher. He went 1-4 with a walk.
-Asamura came in as a defensive substitute and Shuta Tonosaki was starting at 2B.
-Onizaki and Tomoya Mori were deactivated after the game. Isamu Sato and Shogo Kimura became active players.
===
In Game 2 against the Eagles, Andy Van Hekken faced second-year pitcher Tomohiro Anraku. Van Hekken entered the game without a win hoping to right the ship. Anraku
was once featured on ESPN due to his performance in the 2013 Spring Koshien
. He was the team's first round draft pick in 2014.
Van Hekken got off to a slow start and couldn't recover. Wheeler was the culprit again with the first RBI of the game. Masayoshi Fukuda and Taishi Nakagawa would also do damage where Van Hekken couldn't even last three innings. It was 4-0 until Sakata put the Lions on the board with an RBI single in the 4th. They'd add another through an RBI double play and make it 4-2.
The wheels fell off in the 6th, where Chun-Lin Kuo came in for middle relief and his control was off. He would hit two consecutive batters, with the second at the head level leading to his ejection as it is a dangerous pitch. Koishi came in with the bases loaded and got a ground ball, but Naoto Watanabe would commit a throwing error which should've been out No. 3 and two runs would score. It was nearly a replay of last night when Onizaki botched the throw in the ninth inning.
The Lions chipped away at the lead with a two-run HR from Asamura, snapping a significant 0-28 leading up to that at-bat. They would later rally for three consecutive base hits, ending with an Akiyama single to bring them within one run at 6-5.
This glory would be short lived, as Koishi remained in the game for the top of the 7th and gave up three consecutive singles, including one to Kazuo Matsui to make it 7-5. A wild pitch would make it 8-5 and the game was all but over.
However, a break would come as the Lions would get two singles and Watanabe appeared to have a double play ball, but Ryota Yoshimochi would miss the tag on Kuriyama and the throw to first was dropped. Asamura would hit into a fielder's choice to get one run.
There would be runners on the corners and two outs for Okawari-kun, who would get a sudden pinch hit appearance. Okawari-kun sliced one opposite field and it looked catchable, but it dropped and it resulted in a two-run triple to tie the game at 8-8.
Masuda would enter the 9th inning and suddenly allow a base runner with speed to get on base. With two outs and a runner on 2nd, it was up to Goto. He would get an infield single and beat out a throw from Watanabe as runners were on the corners. Kawamoto would flyout to right field as Sakata made a basket catch and preserved the tie.
A chance would come in the 9th for the Lions as Watanabe would leadoff with a single. After Asamura advanced him to 2nd on a bunt, Okada would walk on 5 pitches. Akiyama also walked on four pitches. Newcomer Shogo Kimura had a chance like Takehara in the previous game to get a big hit with the bases loaded. He would strikeout on some terrible pitches in the dirt as Koji Aoyama would get a houdini.
Makita would get his own jam in the top of the 12th with two on and one out. Yoshimochi would ground into a 6-4-3, meaning the Lions could no longer lose the game.
In the bottom of the 12th, the Lions were only able to get one base runner, but Kuriyama struck out and the game ended in a draw.
Game note:
-Andy Van Hekken was deactivated after the game and Yosuke Okamoto would come up.
Lions 8, Eagles 8
===
In Game 3 against the Eagles, Kishi would start on four days of rest against Yoshinao Kamata. He would start well at first, but left the game in the third inning after 34 pitches due to an undisclosed injury. This left a pickle, but Mejia would hit a solo HR off Kamata for the first run of the game in the third.
Koishi would come in as a long reliever and concede a run in the 5th, but Mejia answered right back with a two-run HR in the bottom half. Things began to unravel in the top of the 7th, where C.C. Lee allowed two runners, but got two outs. Yosuke Okamoto would enter and could not do anything right. He would walk Goto to load the bases before Ryo Hijirisawa would tie the game on a two-out single.
The Eagles took the lead shortly after as Takekuma came in with inherited runners. Ginji Akaminai had a gapper of his own and made it 5-3. Another hit from Wheeler made it 6-3 and all hope looked lost.
However, the bottom of the 7th loomed large. Kamata and Hayama combined to load the bases with hits and walks for Mejia up. Hiroyuki Fukuyama would enter, as he has given up a game-winning run for the Lions earlier this season. On first pitch, Mejia hit a no-doubt grand slam to centerfield and the Lions regained the lead in improbable fashion going up 7-6.
Takekuma had a clean 8th inning and Masuda would shut the door as the Lions split the three-game series against the Eagles.
Lions 7, Eagles 6
===
Despite the miracle win on Sunday, the Lions look like they're in deep trouble with no bullpen help and no defense. They literally threw away Friday's game and blew an opportunity to even sweep the Eagles where Saturday was also winnable.
Each game this week was doable, but all the little mistakes from bats, errors and bullpen made it all become a nightmare. There is an even larger concern with Okawari-kun's injury, Mori being deactivated, no rotation stability and a potentially injured Kishi.
Expectations are officially out the window because this Lions team cannot compete with an incompetent bullpen. They were bailed out by Rakuten's terrible pen which contributed to a non-sweep and even a win.
Too many questions arise with this week of poor defense, bullpen and more. Who becomes the starter in place of Van Hekken? Who is the setup man now that Tomomi Takahashi is injured? Can Okawari-kun recover from his forearm injury? It's just too much.
===
Follow us on Twitter @GraveyardBall.