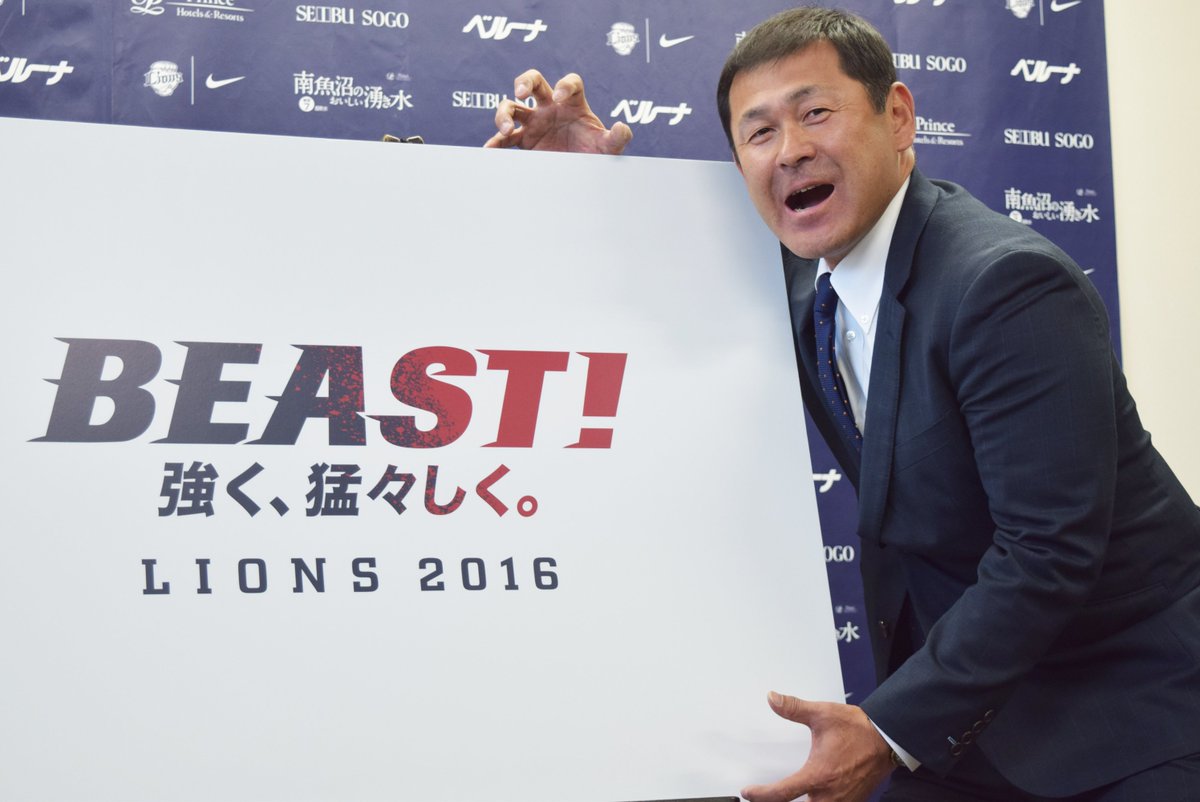 On Christmas Day of 2015 (which is not a huge holiday in Japan compared to other countries), the Saitama Seibu Lions announced in a press conference their new slogan for 2016. It's simple, to BEAST! the year.
Manager Norio Tanabe explained how the team needed to finish and have a strong season ahead for next year.
After a good start to 2015, the Lions had a historic 13-game losing streak, which was a new franchise record as it began the second half of the season. The last time they lost 12 games, it was in 1979 during the first 12 games as Seibu Lions in Tokorozawa, which was then Seibu Stadium (it didn't have a dome roof back then).
The card reads 強く (Tsuyoku) and 猛々しく (Takedakeshiku), which means strong and ferocious. The Lions hope to be "strong and ferocious" like a true Lion for next year. Not only do they need to start strong, but play a full season with the same intensity for all 143 games. The second half just saw a fall from grace, where they fell out of a playoff spot despite the historic season from Shogo Akiyama.
The
"i believe Lions" patch and campaign from last year
had a nice tribute to both the past and present with all three colors and 13 stars visible representing their Japan Series Championships. We're not sure if this will disappear for 2016, but it is a new year for all of us.
In many ways this slogan is what we hope to bring for the upcoming year on our blog as it will be our first full season in writing about the Seibu Lions and NPB. For this year, we want to BEAST! and elevate our style of coverage and thoughts on the Lions as well as plenty of other things around NPB. We began watching this team on Opening Day of 2015, but made the commitment to follow them since November of 2014.
We've come a long way since then, with the study of Japanese to the best of our abilities, along with taking our baseball knowledge to another style of the game. Besides provide thoughts and updates on the Lions, we hope to connect many MLB fans to NPB showing that it's not all about where players aren't cut for the big leagues, but rather give a second chance.
After watching our first year of NPB, we've enjoyed this fresh perspective on baseball which has opened our eyes. We'll continue to learn about the game and now respect the approach and brand of baseball that Japan has to offer.
As you are officially reading this in 2016, we want to wish all of you a Happy New Year as we welcome the year of the Monkey. If anyone is eating some awesome Osechi or you have another tradition for the start of the new year, let us know!
EDIT: Norio Tanabe left a Happy New Year greeting for 2016.
Translation, courtesy of @Maple_ash:
"Happy New Year, Lions fans. In the last two years, we couldn't win enough games, but this year we will certainly do it. We will make it to being the top team in the Pacific League and No. 1 in NPB."
===
Follow us on Twitter: @GraveyardBall