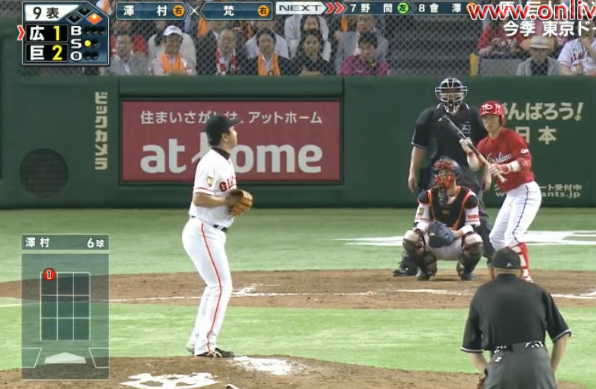 Bunting has been a typical frequency in Japan, but there's more than just this.
Major League Baseball is the king league of its sport. However, Japan has put their own spin and brand of baseball in the Nippon Professional Baseball (NPB) league where we see a different identity.
There are plenty of differences where Japan has its footprints on America's past time. To get you prepared for the 2016 season, here are some differences between baseball in North America and NPB.
EDIT:
We've made a
Part 2 to differences between MLB and NPB
after three years of watching.
===
Bunting: Japan likes to bunt more than MLB
Just to get this out of the way, Japan indeed will bunt more often than the average MLB team. Why do this and giveaway outs? Their theory is that you need to score one run in order to get two, so the manager will often be satisfied to play for one run in an inning. Some managers will have a weaker hitter bat second so that if the leadoff man gets on, they can sacrifice and move him 90 feet.
This is also done as a move to save face, because criticism will be drawn if a double play happens. If no bunting occurred in Japan, we'd see more scrutiny from the media, which is something no one wants to deal with. Even from the picture above, the batter will often show bunt if he is sacrificing.
===
Outfielders in Japan have better range and arm than their MLB counterparts
Japan puts a strong emphasis on conditioning and arm strength. This would mean 3B coaches are more cautious about
sending runners home
and being on second does not guarantee "Scoring position" on a ball that goes past the infield. They're also very good at getting to the ball quickly.
===
MLB has more power hitters
Power hitting exists in Japan, but not to the extent that it does in MLB. There's only a handful of players meant for pop, even though some ballparks can inflate stats due to shorter fences. Sure, there are some domestic players like Sho Nakata, Takeya "Okawari-kun" Nakamura, Yuki Yanagita and others who can mash, but it's nothing compared to the level of MLB.
===
Every run counts in Japan
This isn't saying runs don't count in MLB, but coaches in Japan emphasize each run, making defensive shifts to prevent it at all costs. If a runner is on third base with less than two outs, there's a good chance the infield will play in to try and hold the runner from scoring on a ground ball.
It's also common for the outfield to play in so there is a chance an outfield can throw someone out at the plate on a casual line drive single. Basically, you can beat the pitcher with contact, and the outfielders have no chance. Players are also taught to attack the lead runner if possible on a ball in play.
===
There are no "fastball counts" in Japan
Whenever there is a 2-0 count, sometimes an MLB pitcher will throw one down the middle just to make sure it's not 3-0. In Japan, pitchers will go with what they are most comfortable with no matter what the count is, so hitters who come over cannot expect a fastball to come. Japanese pitchers have fixated on breaking balls, whether it's a curve or a slider. It is possible that this can happen when a foreign pitcher is on the mound.
===
The "Shuuto" is a screwball with a twist
A shuuto is a heavy breaking ball meant to go inside when a right handed pitcher is facing a right handed batter and lefty vs. lefty. It's
common for a hitter to whiff
or even break the bat on a shuuto pitch.
===
Defense has some priorities in Japan
While earlier mentioning how much emphasis defense is in the field, Japan will take a hole in the lineup if he has great defense at the catcher and shortstop positions. It's very important to protect any fast runners and have the ability to throw them out. The shortstop will also be there for defense, but become a hole in the lineup if needed.
There can be players in the lineup at other positions for their hitting, but shortstop and catcher need to have great defense in order to survive in NPB.
===
Managers will put their closer and setup man in the 8th and 9th when they're ahead and in tie game situations
Sometimes the manager will save their closer until it's an opportunity for a save situation in MLB. Japan has more aggressive managers where the setup man and closer would take the 8th and 9th innings, respectively when the game is tied or the team is ahead. The obvious trade off is how the pitching quality becomes weaker if it goes to the 10th inning and beyond.
===
Rotations involve six players on a normal basis instead of five
Starting pitchers will usually pitch once a week on average. Typically there are six games a week with one day off, making it convenient for the manager to have six pitchers ready for starting. This is one of many adjustments that some NPB pitchers need to make if they come to MLB as part of a five man rotation. It also means that managers don't care as much about pitch count since the pitcher will have plenty of time to rest.
===
Managers will irrationally leave their starter to take the 9th inning if he can get a complete game or shutout
T
he manager will often go for the accomplishment besides the win in Japan. Obviously if a no-hitter or perfect game is happening, it could be like this in MLB, but the shutout and complete game is not a priority for the team. With pitch count not being a huge factor in these decisions (due to playing once a week), managers want their pitcher to go for the individual glory and sometimes they even force it. In a 2-0 type of game, if the starter is on a roll, the manager will leave him in sometimes even if there is a reliable closer available in the bullpen.
===
Coaching staffs are larger in Japan
The first-team has many staff members as coaches besides the manager himself. From head coach (equivalent of bench coach in MLB terms) to third base to infield defense to battery, there's a coach for almost everything in NPB. This includes another coach that works on strategy. In MLB, only seven coaches are allowed to be with the manager in a single game. Some teams can have a staff member work with them before and after the game, but not while it's ongoing.
This being said, there is only one farm team in Japan, meaning there are more MLB coaches as a whole to accommodate several levels of minor league baseball combined with the top team.
===
Game planning is an important preparation in Japan
Every game is taken seriously where teams will have pregame meetings with everyone like it's a war briefing. Players will be told about the opposition and what to expect heading into the day or night. Usually the catcher "calling a good game" doesn't mean anything in MLB, but it can be a difference maker in Japan.
Coaching staff members will do their research on tendencies from the opponents besides showing film and looking at sabremetrics.
===
No managing (or coaching) experience is required to be a manager in Japan
Several people hired for a manager job will be people who've understood the game of baseball for a long time as a player. Managers are usually just thrown into the fire and the upstairs front office will just see what he does and the man can learn on the fly.
An example is how Kimiyasu Kudo, a great player and now Hall of Famer was hired after he was a television analyst for multiple years post-retirement. Kudo's connections presumably brought in a staff which has made large contributions to the team's success. Tomoaki Kanemoto of the Hanshin Tigers is another manager who has no coaching experience, but was hired after being a radio color commentator. He was a great player during his time and has plenty of connections, but no one will know what he will be like until he's on the field.
There are also teams who will go with someone foreign like how the Nippon-Ham Fighters hired Trey Hillman and Bobby Valentine is remembered for his time with the Chiba Lotte Marines. Recently, a great former player in Alex Ramirez was hired by the Yokohama DeNA Baystars after he had minimal coaching experience in Japan.
Majority of American sports teams and universities will hire someone with experience as an assistant or former head coach. It will be very rare to hire someone without past coaching on their resume.
===
Bat flips happen all the time and no one gets angry about it
Bat flips don't always happen because a home run is imminent, but sometimes it's an art of letting go of the bat. Pitchers won't get angry over this as it isn't viewed as a taunt.
===
Instant replay in Japan has been expanded to home runs and plays at the bases, but no challenges
This is a new thing about instant replay being expanded, where previously only home runs were reviewed. The one cool aspect about this, is how the umpire will just go on a stadium microphone and formally address the crowd what the ruling is. A video of this can be seen below.
UPDATE:
Replay has been expanded to a challenge system and plays on base or at the plate. Still, the umpire will formally explain the ruling on a microphone like it's football.
===
Double headers are extremely rare
Games will be rained out in Japan due to the inconsistent weather all year around. However, it would be too informal to play a double header the next day as it would interfere with schedules for others. Japan is so polite, where if a train is delayed by even one minute behind schedule, they will have an apology letter for any salarymen aboard.
Makeup games will happen on blank dates and when interleague play concludes, there is nearly a full week of no games leaving a window open to play the ones rained out. Most make up games will happen at the end of the year while others can happen during the season on a blank day.
===
Tie games exist in Japan
In contrary to this movie clip, regular season games will end in a tie after 12 innings if both teams have the same number of runs. It becomes 15 innings as a limit once it's the Japan Series. If somehow the Japan Series is tied 3-3-1, there would be a rare Game 8, where there would be no inning limit to end the season. So the home team can "Celebrate" at least a tie in the event they get through the top of the 12th inning unscathed.
Like MLB, games become official after five innings and can be called if it's raining. If the score is tied after five innings and the weather is not good enough for a game, it will be decided by the umpires.
===
The First pitch in Japan is marketed where everyone including players will watch
The entire crowd will watch the first pitch and mascots will often accommodate the person who throws it. Even the leadoff hitter (usually for the opposing team) will swing and miss on purpose no matter how good or bad the first pitch is from the plate. A full collection of first pitches
can be seen here
.
===
Crowds in Japan have a cheering section, cheerleaders as well as a visitor's section
The Oendan (cheer section) is at every game for each team. The etiquette is that cheer songs will be played when your team is batting, while the opposing team will get their chance when your team is on defense. There are also "Chance songs" when there are runners in scoring position and fans want more runs. In MLB, you can only get consistent drums from more than one person in the
Oakland A's bleachers
.
It's similar to college sports, where a visitor's section is in the opposite bleacher section. So even on the road, songs will be played for opposing teams while the home crowd is silent.

===
The 7th inning stretch has balloons and a cheer song instead of "Take me out to the ballgame"
Every team will sing their "cheer song" during the middle of the 7th inning. Most stadiums will have balloons for people to hold and release which is a tradition. Others will have towels or umbrellas, but 3/4ths of NPB will have balloons. Some fans will also save the balloons (I know, the appearance is a little different) for the end as a symbol of victory. This segment is also known as "Lucky 7".
For visiting fans, they will play the road team's song at the end of the sixth inning for towels/balloons to occur.
===
Select regular season games in Japan are played in rural or suburban areas
This type of thing is fan service as people from all over the country like baseball. It's a nice convenience so that fans don't have to make a long trip by car, train or plane to see their favorite team. Teams like the Rakuten Golden Eagles and Hokkaido Nippon-Ham Fighters cover a large region of their area, meaning they play several different stadiums away from their traditional home.

In the Hanshin Tigers case, they must play some home games at the Orix Buffaloes home in nearby Osaka as two Koshien tournaments have priority in their traditional stadium. It's all but guaranteed that a fraction of road or home games will not be at the their usual home stadium.
===
The pitcher is allowed to play catch in front of his dugout when his team is batting
If a pitcher is coming back for another inning out of the dugout (most of the time the starter), he can play catch and warm up a few tosses in preparation for returning to the mound. In MLB, this is rare and usually the pitchers will need to go to the bullpen or wait until the frame is over for this to happen. This is also a way of telling the crowd of who is expected to pitch the next inning.
UPDATE:
This rule is likely to be taken away after the 2018 season.
===
Umpires get excited to call a Backwards K (Called strike 3)
Some umpires throw an uppercut or a big cross when calling a strikeout. Best yet is when there's a fast punch.
===
Majority of bullpens are underground or indoors and require cameras for the dugout to see
Some bullpens are outdoors and visible along foul territory, however, many of them are inside or underground in the outfield area. Managers (or another coach) will eyeball the monitor they're given in the dugout to see how their pitcher looks. Sometimes the bullpen is so far away where it requires a car to get the pitcher to the mound out of the pen.
===
Half of NPB will play their traditional home games indoors
Despite nature and sun being a great aspect of baseball, domes have their purposes in Japan due to the inconsistent weather. Six of the 12 teams have a domed stadium with one of them being a retractable roof. However, that retractable roof stadium only plays a handful of games outdoors when it's prescheduled, as they won't open it without notice.
==
Players who retire will go through a special ceremony at the end of the season
If a player spent significant time on a first team in NPB and it will be his last season, he is given a special retirement moment of glory in his last game. Usually the season is mathematically over and players will get one last hurrah whether it's one at bat for a position player or one final batter to face if he's a pitcher. The video above shows former Los Angeles Dodgers, Boston Red Sox and Arizona Diamondbacks pitcher Takashi Saito given his final batter as a player. He got a
final toss after the game
.
===
There you have it. Hopefully this will draw some guidelines and what to expect for NPB when you start watching for the first time. We even have a
second part to this piece
.
===
Follow us on Twitter @GraveyardBall