Wes Mills (who is 1/2 of this blog) explained his side of the story in the
introductory post
. I figured I should do the same from my perspective on "Why choose the Seibu Lions?".
Before even talking about NPB, I'll have a short introduction on myself. Baseball has been a staple among my family since the 1960s, where both of my parents experienced the early years of the Los Angeles Dodgers and San Francisco Giants in California.
My father became a Dodgers fan when Maury Wills and Sandy Koufax were playing in Chavez Ravine. He appreciated the speed and pitching that the Dodgers would bring in their first years. It wasn't about power, proximity, nor size, but about the intelligence, defense and fundamental baseball that made things interesting for him.
The Dodgers uniform has remained classic, making it one of the best in baseball for the fact it hasn't changed.
The blue uniforms were also a help, as they have not changed since their late years in Brooklyn with a simple "Dodgers" script on the front. Fast forward to 1968 and the Oakland A's became an adopted team as my father and mother lived were both born in the Bay Area. (For those wondering about 1988, my dad was rooting for the Dodgers and mother wanted the A's to win).
I grew up going to baseball games since being a little kid. What helped every summer was how tickets were a very reasonable price for my family, so I became accustomed to the sport and my first baseball memories where I was old enough to understand everything was in 1998.
As recent as September 2013, I've been studying up on Japanese culture through friends and research. I have built a connection with a good number of people who have roots from Japan. Being in the Bay Area of course helps with a high Asian presence.
From reading up on food to religion to history, I wanted to take the leap of faith in starting to choose an NPB team. When the 2014 World Series ended, my friends and I were beginning to miss baseball already and exercised the idea of adopting an NPB team shortly after.
After watching some tape and highlights of previous years, I became hooked when I found out they have an Ōendan (cheering section) making noise all game. As an Oakland A's fan, I've been known to enjoy chanting all game.
This also goes back to my college days when I would make sure noise would happen in the
student section
of football games at San Jose State. It was always a pet peeve of mine when people wouldn't know their school
fight songs
, but I always made sure to sing along rather than just clap.
Fan spirit has always made games fun and I often appreciate fans who will enjoy chanting or making noise all game long, not worried about what others think of them. From a simple "Let's go" to repetitive clapping, it becomes the norm in my book.
Going back to the conversation with friends, we began doing research on history and looking up all 12 NPB teams. A missionary friend of mine (who is also an A's fan) made
this rubric
on deciding a team. I applied his rubric to myself for all 12 teams even though his writeup applied to four out of the five Greater Tokyo Area teams.
Two teams were easy to eliminate early without extra details. The
Yomiuri Giants
aka the "Kyojin" were easy to eliminate for their reputation as the "New York Yankees of Japan". Not only do they win
with a high payroll
, but they resemble another MLB team I dislike in name and colors in the San Francisco Giants.
The
Hanshin Tigers
were also an easy removal from consideration because of their relation to a "Boston Red Sox curse". I suppose today, they should be compared to the Cubs for their long title drought, but the fans appear to have a psycho reputation based on this
1985 story
. It's also fitting that Hanshin and Yomiuri are the top rivalry in all of NPB, similar to how the Yankees and Red Sox are for MLB.
I eliminated four other teams because I prefer the Designated Hitter over the pitcher batting. This removes the other four Central League teams in the
Chunichi Dragons, Yokohama DeNA Baystars, Hiroshima Toyo Carp and the Tokyo Yakult Swallows.
The Dragons were a tempting choice with the obvious connection to the
movie Mr. Baseball
, where Tom Selleck is a player who goes out to Japan. Had their uniforms stayed the same to what they had in the early 90s, the temptation would be even higher with their resemblance to the Dodgers.
So this leaves six Pacific League teams who remain, as they are similar to the American League with the DH. Another criteria I had was the uniforms, where I'm curious as to how many team company owners force their name on the front of the jersey. I'm sensitive to advertising a company unless it's the sports team and while I understand they need to put their name somewhere on their tops, it shouldn't be forced.
This team, BSC Barcelona (Ecuador) has a beer company on the front as their sponsor. Not into that.
Soccer teams obviously have their sponsor on the front besides the jersey maker. I could go
on
and
on
about
some
companies
I'm
not
into
. (I became an Inter supporter because I was ok with advertising Pirelli when I first saw this
2007-2008 design
).
I basically don't want to advertise something primarily on the front. While some companies are cool, I feel it's too much to think about that over the team itself.
SoftBank does a good job advertising themselves on the jersey and hat, but that's not what I want.
It was easy to eliminate the
Softbank Hawks
because their design and logo is all over the hat, sleeves and on the front of each jersey. Too much for me.
Had the Fighters stuck with these jerseys as a full time away top, I might have considered them.
The
Nippon-Ham Fighters
have a very
distinct home jersey
that is nice, but the
road top
's colors don't appeal to me, even though I bet they make good food and products.
Decent look, but not into the piping.
The
Orix Buffaloes
had a decent rebrand since the team was merged from the Orix Blue Wave and Kintetsu Buffaloes, but they also fall in the trap of forcing their company on the road gray tops.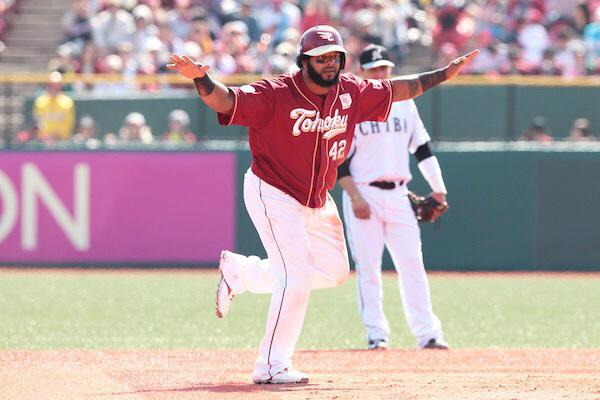 Rakuten has these nice alternate tops to represent the Tohoku region, but it's unfortunate these aren't worn.
The
Rakuten Golden Eagles
also
have a forced
look
. Rakuten is of course an Amazon type of shopping site of Japan, where I have bought things in the past off of it. Masahiro Tanaka helped put them on the map as they're the only expansion team.
Only four teams do not have a primary jersey with the company name on the front. It's the
Hiroshima
Carp
(already eliminated), Yomiuri Giants (already eliminated),
Chiba
Lotte
Marines
and
Saitama Seibu Lions
.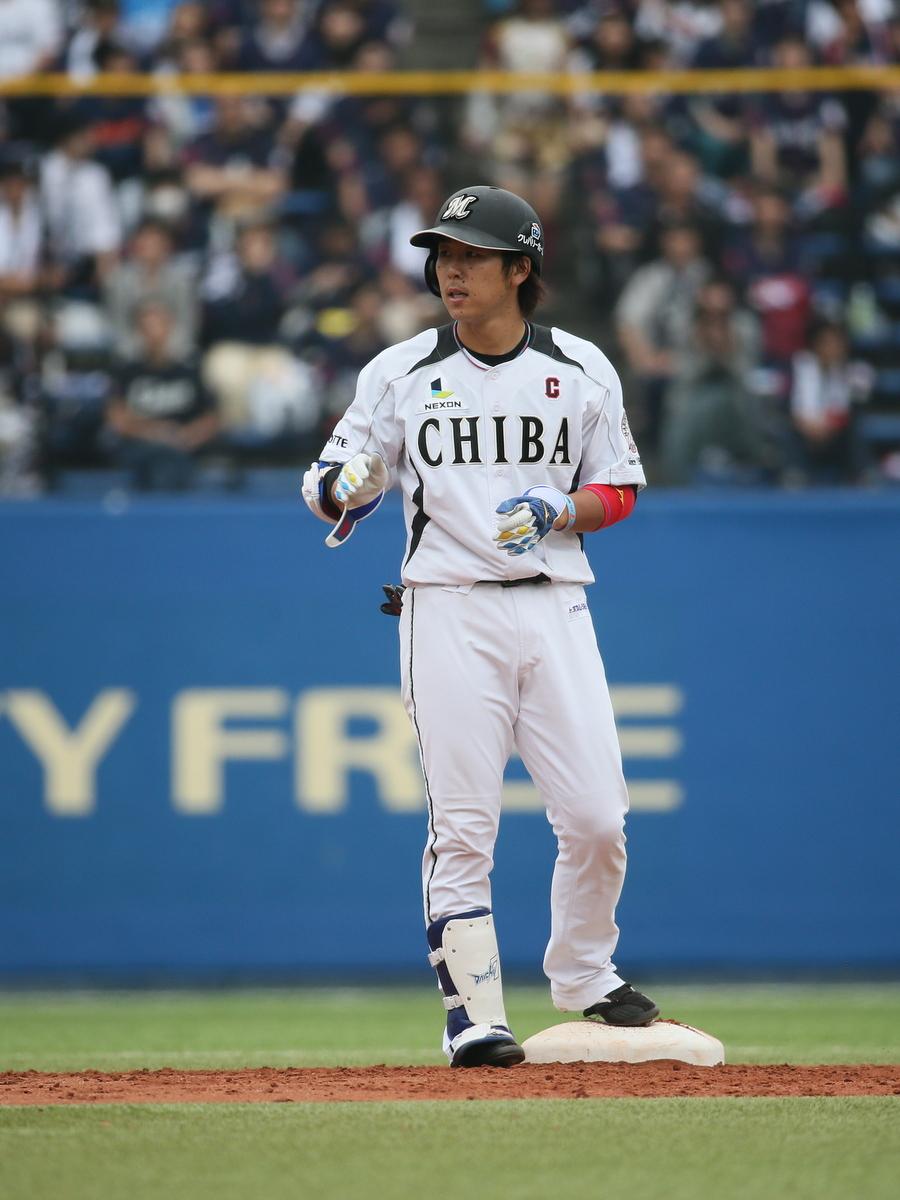 Chiba has a very nice alternate, represents the region well.
So in reality, the Marines and Lions became the only two logical choices from the uniform and DH criteria. If you didn't already notice, I like it when the prefecture or city is on the front of the jersey, just like for most MLB teams where we see the city's name on the road.
Represent the location on the road.
Seibu has previously had designs that
advertised themselves
, but not today. In this case, Seibu represents the train railway which helps many go from Tokyo throughout the Saitama prefecture. The Ikebukuro line prevents people from walking quite the distance.
Today, the Lions
have a home uniform
where it looks traditional and the logo is on the sleeves with one line saying "Seibu." They also added a sleeve patch on the opposite side for 2015, representing their previous history (13 stars = 13 championships) and colors of black and bright blue. Their road jersey design was previously a gray version of the white one, but they made their
alternate blue tops
for away games, as it has the prefecture's name "Saitama" on the front. The
Prefecture seal
is on the right sleeve.
The Chiba Lotte Marines are owned by a confectionery company in Lotte. The best thing is, Lotte only puts themselves on the right
sleeve of the jersey
, not the front.
Majority of my friends from Japan are from the Chiba area and it always was cool to know that's where the Tokyo Disney park is located. However, one thing in the Lions previous jerseys stood out.
I embraced the previous home jersey design from 2009-2014 where it resembled
the Detroit Tigers
. The modified olde English font on the hat and "L" was just something I couldn't pass up. I've always enjoyed the Tigers traditional white uniforms and when the Lions went to this navy blue design as a way to resemble their
previous history
as Nishihetsu Lions (located in Fukuoka), I fell in love with that look.
The Marines
resemble
the Chicago White Sox and while that has its own traditional look with pinstripes, I still approve far more that the Lions wear "Saitama" on the road today instead of "Lions".
Both teams have won their share of titles with the Lions winning more, but team history did not play a factor in my decision. Players are definitely marketable, but the look was something I couldn't pass up. There was also the factor that they have been competitive even with one of the lowest payrolls in Japan. As an A's fan, that's something I can relate to, giving the feeling of an underdog but still fighting.
I wanted to wear a uniform that can fit me well, make a lot of sense with a clean look. The Lions bring that with their hat and jersey even today.
If I chose a team prior to 2009, it might have been Chiba since Seibu was on the front, but the rebranding design made me choose the Lions. In mid-November of 2014, I made my Decision without a Lebron James line of where I'd "take my [fan] talents" to. Even though the Lions
changed their uniforms
two weeks after this decision, I still was locked in, waiting for baseball the next spring.
Today's current uniform design is not my favorite, but it's one that I can enjoy as it still has traditional look. There is a perfect identity that fits the prefecture and shows pride within Saitama beyond baseball with these tops. Someday, I hope to visit the Seibu Dome in the future.
The current Saitama Seibu Lions jerseys
Follow us on Twitter: @GraveyardBall