Chunichi Dragons
(
中日ドラゴンズ

)
Update: Found this post? Here's a 2020 revised edition.
The Chunichi (中日) Dragons have been around since 1950 as a professional team, but had multiple nicknames including "Nagoya Dragons" in their history. They've kept the title of Chunichi Dragons since 1954. The Dragons were the same team featured in the movie "Mr. Baseball."
Ownership:
Chunichi Shimbun
Chunichi is another media outlet like Yomiuri. They're a newspaper that operates in Aichi prefecture.
League:
Central
Payroll rank in 2015:
6
The Dragons used to be a team that was near the top in spending, but their recent budget has put them with the rest of the pack in NPB. This number could go down for 2016 depending on how raises and paycuts were.
Lo
cation:
Nagoya Dome in Nagoya, Aichi prefecture
Nagoya is in the Chubu region,
which is between Kansai and Kanto
. It's the third highest populated area in Japan and the most well-known building is Nagoya Castle, which is seen on rocks. Nagoya is home to the headquarters of various Mitsubishi branches as well as Toyota. In terms of food, Nagoya is known for a special chicken as well as a red miso.
Nagoya Dome has been the Dragons' home since 1997. It's the ultimate pitcher's park in the Central League and is notable for having high foul poles which appears to touch the roof.
Nagoya Stadium is where the Dragons originally played in as it's the same building where Mr. Baseball was filmed. Today, it's been renovated for the Dragons' ni-gun farm games with less seating capacity, but it's still in operation. A full game clip of how it used to look can be seen here.
===
Primary Uniforms: Made by Asics
New Home uniform for 2017
The Dragons used to wear uniforms (with permission) that resembled the Los Angeles Dodgers from 1987-1996, but their current design is based on something they wore in the 1960s,
according to NPB Card guy (Dave)
.
===
Mascot: Doala
Doala is not a Dragon, but the mascot idea comes from the koalas who entered the local zoo in Nagoya in 1984. As a way to take advantage of the koalas, the marketing team came up with Doala and fans would eat it up. The mascot known for doing flips and was even
"reported" to have signed for 750 grams of bread
.
===
Cheer song:
Moeyo Dragons (燃えよドラゴンズ) "Light'em up Dragons"
The Dragons are one of three teams who doesn't use balloons during their Lucky 7 time in Nagoya Dome. Fans will hold up their scarves or towels instead. Balloons aren't banned, but they rarely happen compared to other teams who use them every time. Here is photo evidence of balloons in Nagoya Dome.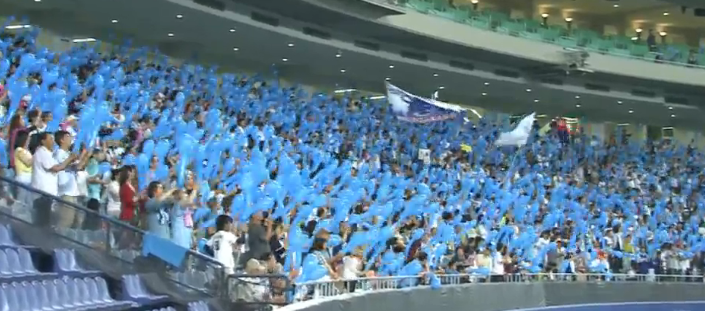 ===
Ōendan Songs: Incomplete list of Player songs at 00:00, theme and chance songs at 3:00, Scoring song (Moeyo Dragons) at 11:07
===
MLB Comparison: Philadelphia Phillies
This is more of a current comparison than going historical. The Dragons have had their years of being contenders for decades, but only had one championship in the 1960s to show for it. Most recently, they won a Japan series in 2007 and the
clinching game was also
a
combined perfect game
. They had multiple trips to the Japan Series after 2007, but came up short.
The Dragons are an aging group of veterans who are in the need of rebuilding, which reminds me of how the Phillies currently are, living off their one World Series in 2008.
===
Notable MiLB and MLB Players to play for Chunichi:
Hector Luna, Don Newcombe, Matt Stairs, Anderson Hernandez, Ken Macha, Raul Valdes

Notable Dragons to play in MLB:
Wei-Yin Chen, Kosuke Fukudome, Matt Stairs

Note: Matt Stairs had one season with the team in 1994 before going back to MLB.
Why you root for them:
Mr. Baseball put Japanese baseball on the map in Hollywood form
Because you really like the movie Mr. Baseball. The film was in Nagoya and had its own culture of influence with the help of several advisers. If people became fans of the Los Angeles Angels of Anaheim through Angels in the Outfield and the Mighty Ducks through their movies, the Dragons can be included too.
If you like a big city, but not the top regions of Kansai/Kanto, Nagoya is for you. It's a forgotten area among the average person, but there's plenty to like about it. Player chants and other things in the Ōendans are a very traditional style of baseball.
Better yet, there is also English coverage of the Dragons on the blog
Moeyo Dragons
and
Chunichi Soul
.
===
Why you don't root for them:
The Dragons have come in second place more times than not behind the Yomiuri Giants. Mr. Baseball portrays the Dragons and Giants as a main rivalry, but in reality, every team dislikes the Giants, even in the Pacific League. With the Dragons coming up short, it became easy to make a movie on this being a rivalry since the Giants own Japan.

As said before, this is an aging roster with a need to get younger. They were contenders six years ago, but they're in a state of transition, meaning it won't be easy to watch them.
===