Yokohama DeNA Baystars (横浜DeNAベイスターズ)
Update: Found this post? Here's a 2020 revised edition.
The Yokohama (DeNA) Baystars were originally owned by the Taiyo since the 1930s as an amateur team. They became a professional team in 1950 and had their longstanding name of Taiyo Whales for only three seasons from 1950-1952. After having different mascot names from Robins and Shochiku Robins, they went back to being Taiyo Whale from 1955-1977.
The location of Yokohama was added in 1978 before they became Yokohama Baystars in 1993 with ownership changes prior to that year. Eventually, DeNA purchased the team in 2011 and they've been called Yokohama DeNA Baystars ever since. The Baystars name comes from the Yokohama Bay Bridge.
===
Ownership: DeNA
DeNA (pronounced like DNA) is most well-known for making games on any mobile devices. They are also partnered with Nintendo and many more. Other services include internet shopping, e-commerce, advertising and global business.
===
League: Central
===
Payroll rank: 12
The Baystars have historically been the bottom of the barrel among NPB teams in payroll, if not being dead last. However, they have learned to sign free agents recently, as reflected in their pickup of Jose Lopez.
===
Location/Stadium: Yokohama Stadium in Yokohama, Kanagawa prefecture.
Yokohama is south of Tokyo, but still in the Kanto region. It's the second largest city in Japan behind Tokyo itself. With Yokohama being on the coast, it was a port for trade and foreign ships would come in all the time. In many ways, it was a gate to open things up for the USA and Japan. Yokohama was also the site of the final game in the 2002 World Cup between Brazil and Germany. It's home to Nissan's headquarters.
Yokohama Stadium is in the heart of the city and there are plenty of things to do in the area. The field was initially made out of turf, but DeNA recently purchased the stadium and grass will be installed for the 2016 season and beyond. The infield dirt was only on the bases, home plate and the mound while everything else was brown or green colored turf.
The seats will change from orange to blue for 2016 with a renovation happening. Yokohama Stadium is a huge bandbox ballpark in NPB, making it easy to hit a home run. With 94 meters (308.4 ft) at the edge of left and right field, the ball can easily reach the crowd. It's a hitter's heaven, or a pitcher's nightmare.
===
Primary Uniforms: Made by Descente
Home design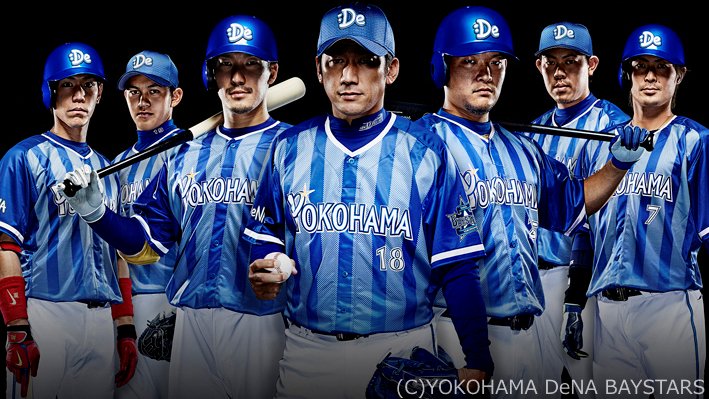 New road design for 2016
===
Mascot: "DB Starman"
===
"Atsuki hoshi-tachi yo" (熱き星たちよ) "Passionate Star"
If you're really looking for the current version, here's the most recent.
===
===
Prior to 2015, the Blue Jays and Baystars both shared the longest playoff droughts among their respective leagues of MLB and NPB. Both teams broke their droughts in 2015 and 2016, respectively. Even with the Blue Jays being in the postseason for 2015, it's still worthy of a comparison because of how the ballpark is built. It's easy to hit a home run in Yokohama combined with the same difficulty of giving one up. Like Toronto, power numbers become inflated.
===
===
Takashi Saito, Kazuhiro Sasaki, Tomo Ohka
Opposing teams will often outnumber the home crowd when Yokohama plays a game. While some teams have a limited visitor's section, Yokohama lets anyone in and it leaves room for others to take over. In contrast to the top, if you dislike high scoring affairs, this team isn't for you for the stadium reasons mentioned above.
===